Festival Play Seminar Director To Retire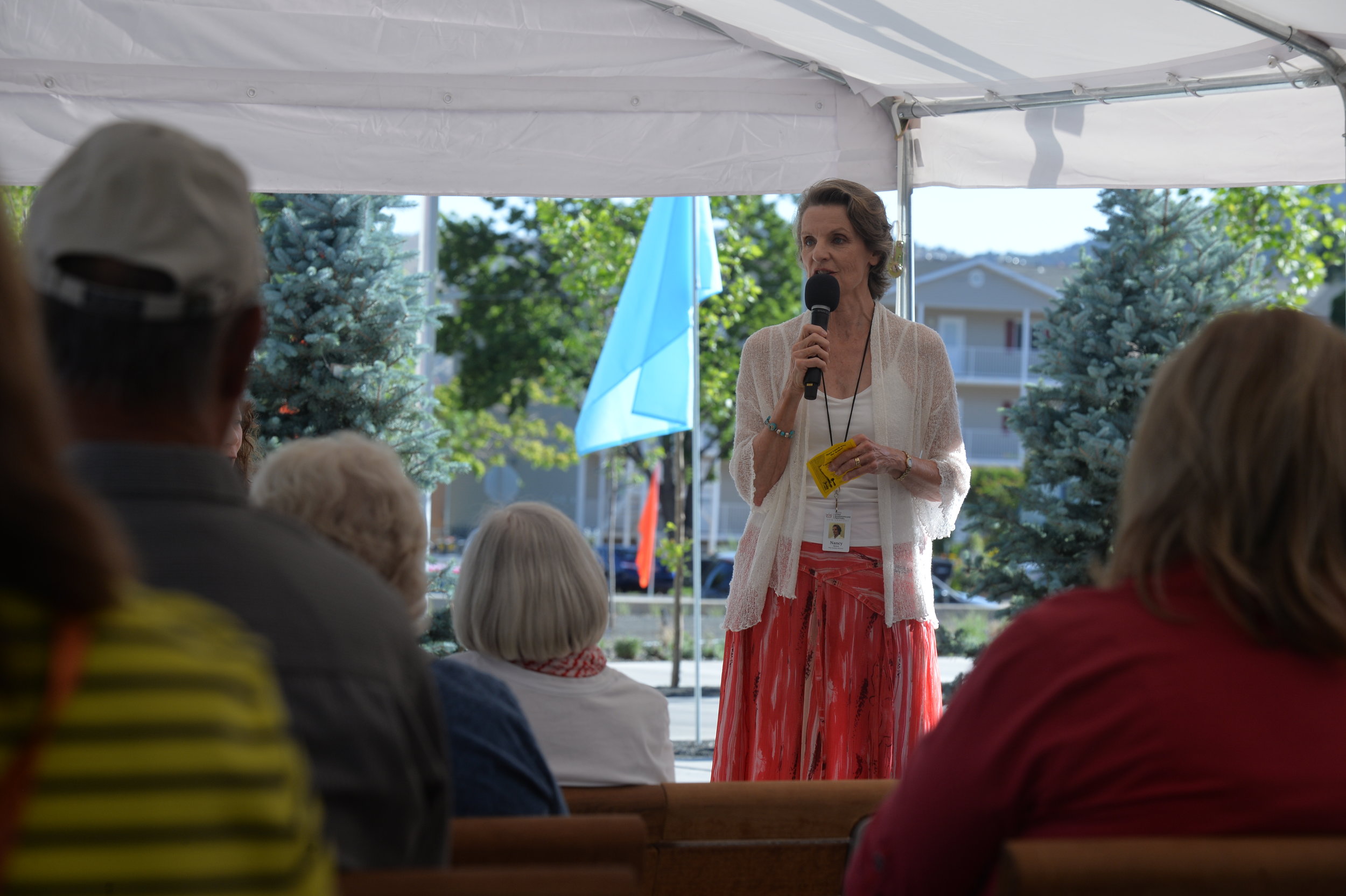 CEDAR CITY, UT — "Is that what Shakespeare meant? Is Henry V or Julius Caesar relevant today? And how about those Marx Brothers? Are they relevant too? Here, at the Festival Play Seminars, we get to debate such things in a live setting, in real time. Remarkable. Wonderful."
Those are the words of Play Seminar Director Nancy Melich, reminiscing about what she has loved about the Play Seminars—reminiscing because she is retiring from this job she loves effective September 18—after thirteen years of discussion and interaction with Utah Shakespeare Festival guests.
"Nancy's greatest gift is her ability to cultivate cultured conversations about the art on the stage," said Festival Education Director Michael Bahr. "She has created a wonderful legacy of enlightened dialogue in the Seminar Grove."
Melich has a long history with the Festival, even before she became the Play Seminar director. She first attended the Festival in 1972 with her parents, then began writing about the Festival as a reporter for the Salt Lake Tribune in 1977. In 1979, she began writing reviews.
"In those early years, I wrote my reviews on a typewriter in Scott Philllips's office, after the performances concluded, usually around midnight," she said. "I still remember walking across the courtyard, sometimes at 3 a.m., back to my room. In later years, I brought my own Smith Corona, then eventually a computer, and filed my stories daily from room 169 at the El Rey Motel."
Then, in 2004, Executive Director Phillips and Founder Fred C. Adams visited her in Salt Lake City and asked if she would be interested in the job. "You can come for a year or for a lifetime," Phillips told her.
"I never expected to stay for thirteen years," she said. "but, oh, how glad I am to have been part of this life-affirming festival for more than a dozen years."
"One of the many things I have learned here at the Festival . . . is that people are starved for conversation," she added. "Not a faceless voice on the other end of a cell phone or an unidentified opinion purveyor on a website. But real people in real time. These seminars provide an opportunity to talk about ideas inspired by the plays, a chance to agree or disagree about a director's choice, a playwright's interpretation, an actor's emotional and physical range."
That's what Shakespeare meant, and why Julius Caesar, Henry V, and the Marx Brothers are relevant today.
The Utah Shakespeare Festival is part of the Beverley Taylor Sorenson Center for the Arts at Southern Utah University, which also includes the Southern Utah Museum of Art (SUMA).
NOTE: If you would like to congratulation or thank Nancy, please do so below. We will make sure she gets all your comments.