Festival Schedules 2022 Classes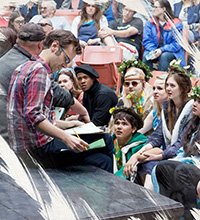 By Liz Armstrong
Shakespeare himself once said, "Ignorance is the curse of God; knowledge the wing wherewith we fly to heaven" (Henry VI Part Two). We agree, so what better way to gain knowledge than to take a class at the Utah Shakespeare Festival? The Festival is offering a variety of courses during its 2022 season, with something for everyone: aspiring actors, teachers, and lovers of Shakespeare, theatre, and learning-made-fun.
These interactive courses allow lovers of the arts to explore the world of theatre while gaining valuable skills. Education Director Michael Bahr noted that these classes are valuable because engaging education is happening all day, all of the time. Some of the classes also include Southern Utah University credits.
"Students learn through on-feet interactive activities during the day," Bahr said. "Then see these lessons applied through plays during the evening productions and share their observations with company members in post-show discussions the next day."
Classes include:
Playmakers Summer Camp (June 6–16) is for students 4–17 years old. Taught Mondays through Fridays from 2 to 4 p.m., this class is a two-week course that concludes with a Saturday performance. Focusing on Shakespearean scene work, music, and dance, it includes lessons on improvisation, collaboration, movement, voice and more. The course also includes a T-shirt and a ticket to a play. 
Junior Actor Training (July 11–16 or 25–30) is for students 11–14 years old. Taught by Festival actors and teaching artists, students will experience training in voice, stage combat, improvisation, and scene work. Tuition includes dormitory accommodations, all meals, and tickets to seven plays at the Festival. 
Shakespeare Survey, Shakespeare Forum, and Shakespeare Seminar (June 20–October 8) is for students or playgoers of any age. These self-paced, individualized learning courses, allow patrons to receive Southern Utah University credits by attending two, four, or six plays, pre-show orientations, and post-show seminars. Students then also provide feedback through online forms.
Actor Training (July 18–23) is for students 15–18 years old. Taught by professional Festival actors and teaching artists, this course is focused on developing auditioning and acting skills in Shakespeare. The class also teaches text analysis and performance techniques. Tuition includes dormitory accommodations, all meals, and tickets to seven plays. 
Arts Administration for the Theatre Classroom (June 27–July 1) is a professional development course aimed toward secondary education theatre teachers. Areas of study include general arts management, organizational leadership, financial management, marketing, development, and strategic planning. Teachers will be provided with an overview of arts administration and will learn how to incorporate the best practices into their classroom. Tickets to two plays are included in the tuition. 
Theatre Methods for the Classroom (July 6–8 for secondary teachers and July 12–14 for elementary teachers) are professional development courses for teachers and administrators. Topics being taught will include instructional games, script adaptation, and tips on how to produce a play with limited time and resources. It explores methods of developing and implementing Shakespeare and theatre arts programs as a tool for varied curricula. Tuition includes classroom material, special sessions with Festival actors, and a ticket to one play. 
Teaching Shakespeare (July 18–21) is for anyone interested in teaching about the Bard. The course will cover active and engaging classroom approaches to those who teach Shakespeare's text and explore theatre techniques to aid in student engagement. Tuition includes tickets to four plays. 
Tech for Teachers (July 25–27) offers the opportunity to acquire necessary tools to present plays from the technician's point of view. Festival technicians will use hands-on learning experiences to teach designing, building, and running a production. Tuition includes a ticket to one play, as well as the opportunity to observe post-production changeovers. 
"These interactive courses are very popular because of the intimate connections and instruction students are able to receive from working professionals," Bahr said as he urged everyone to sign up soon and take advantage of this opportunity to enjoy the Festival in an entirely different way.
Many of these classes have scholarships available. To inquire, email education@bard.org. For more information on the classes and to register, visit bard.org and click on "Camps and Classes" under the "Education" tab.