Festival Throws 22nd Annual Bard's Birthday Bash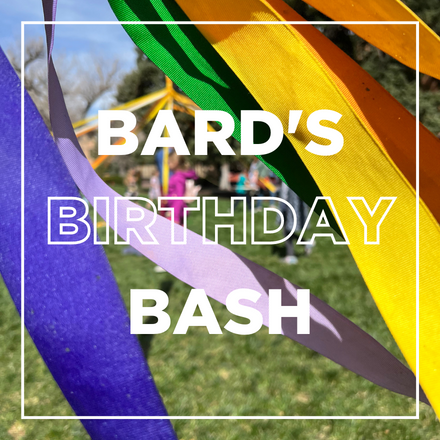 The Festival celebrated William Shakespeare's 459th birthday in April with a three-day bash! The Bard is regarded as one of the greatest writers in the English language, as well as one of its most revered and studied dramatists, and we love involving the community––and especially students––when we celebrate him. The Bard's Birthday Bash took place on April 19-21 this year. 
Since the Festival was founded in 1961 by the late Fred C. Adams, we have celebrated the genius, magic, brilliance, and importance of Shakespeare's works and continue to recognize him as the cornerstone of our mission.
"It's a way to celebrate Shakespeare and theatrical performance, and to get a taste of theatre, dance, and youthful energy and optimism," Interim Managing Director Michael Bahr said. 
The 22nd annual event targets local elementary school students, in order to build excitement and connection to Shakespeare at a young age. Community members were also welcome to attend. 
The celebration took place on the grounds of Southern Utah University and consisted of jousting, dancing the Maypole, performances in the Adams Memorial Theatre, theatre games, and birthday cake with Queen Elizabeth. This year, the bash was even more special––an extra day was added to the schedule to make room to celebrate with even more students, teachers, and community members. 
"Celebrating The Bard with young people is one of the highlights of the year. These students come with such enthusiasm and joy, while participating in both performative and physical activities," Associate Education Director Stewart Shelley said. 
"As the 2023 school year comes to a close, it is wonderful to see students out-of-doors, laughing, playing, and enjoying this birthday celebration together," Shelley added. 
A cadre of volunteers from the Festival's education department, Guild of the Utah Shakespeare Festival, and SUU Play Team members ran the event. 
"Students rotated through the different activities and shared in the celebratory festivities," Shelley explained. "Many schools were able to perform a brief piece of Shakespeare's literature with us on the Adams stage, and others who didn't bring a piece had the opportunity to learn and perform some lines while here."
To register for next year's Birthday Bash, email usfeducation@bard.org with the name of the school, the teachers, contact information, and the approximate number of students. For information about the Festival's upcoming season and to purchase tickets, visit bard.org or call 1-800-PLAYTIX.