Festival to Host 46th Annual Shakespeare Competition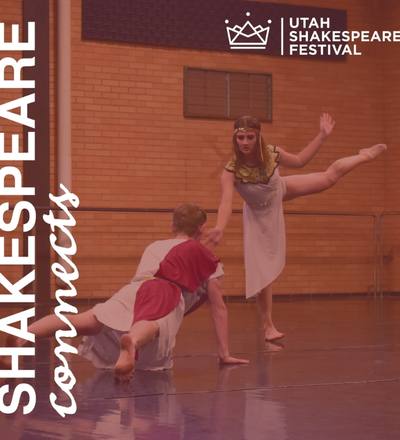 By Liz Armstrong
The Utah Shakespeare Festival is thrilled to announce the 46th annual Shakespeare Competition. Held September 29 to October 1, schools from across the country are invited to network and compete with one another in Cedar City
Students between sixth and twelfth grade will participate in acting, dance, music, technical and theatre competitions and have the opportunity to earn scholarships. 
The mission statement found on bard.org states that the goal of the competition is to "cultivate the art of theatre, dance, and music, by providing active observation of peer and professional performance, educational creations based on Shakespeare's plays and poems, and personal evaluation by working theatre and dance professionals."
The largest of its kind in the country, the Shakespeare Competition began in 1977. This year, 106 schools from Utah, Idaho, California, Arizona, Nevada, and Wisconsin will be participating this year.  
Many members of the 2022 performing company will serve as judges for the competition, including Chris Mixon and J Michael Bailey, who played Sweeney Todd this season. 
Interim Education Director Stewart Shelley loves the Shakespeare Competition mostly for the sense of community it gives participants. 
"Yes, they may be siloed in their own high school as the 'drama kids,' but when we get 3,500-4,000 students on campus who all share the same passion, it really is magic to see them start networking," Shelley said.
Although this is Shelley's first time on this side of the competition – organizing and directing – he was once a participant himself in high school. As a former teacher, he's also spend the past 20 years bringing his own students to the Shakespeare Competition. 
"Teachers should bring their students because it's an incredible opportunity for students to get professional feedback from our company members and professional judges to improve their own performance," Shelley said. 
Although the competition side of the event is exciting and motivating, Shelley pointed out that that's not what the Shakespeare Competition is entirely about. It's about networking, learning, and giving students the opportunity to immerse themselves in the world of Shakespeare. 
"Whether you hate or love competition, it's irrelevant. If you hate competition, don't come to compete, come and participate," Shelley said. "If you love competition, use that as a springboard to drive your students to higher levels of performance."
Groups will also have the opportunity to see professional performances from the Festival's current season, such as The Tempest and Clue. 
The dance, tech, and theatre portions of the competition will be held on Southern Utah University's campus, while the music portion will be hosted at the Heritage Center Theater.
For teachers and coaches, access required forms, judging forms, schedules, rules and regulations, and more, can be found here. 
To find out more information about the Shakespeare Competition, visit bard.org/about/education/competition/.**