Festival Presents "Give 'Em Hell, Harry!" in West Valley City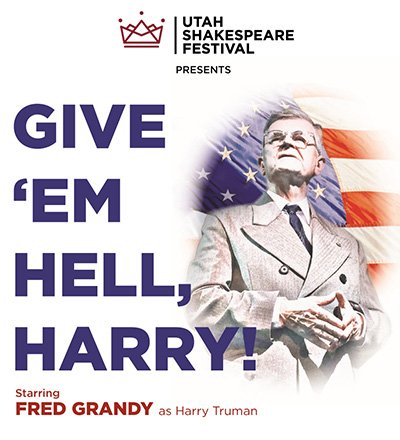 By Liz Armstrong
If you long for the days when politicians tackled big problems, worked together, and got things done, then you won't want to miss Give 'Em Hell, Harry! The Utah Shakespeare Festival will be presenting the one-man show March 29 to April 2 at the West Valley Performing Arts Center in West Valley City, Utah. 
Tickets for both evening and matinee performances are now on sale. Visit www.wvcarts.org for details or to purchase.
The play will star Fred Grandy, who has experience in both theatre and politics. As an actor he is best known for his role as "Gopher" Smith on the hit television series, The Love Boat. As a politician he served four terms as a Republican in the United States House of Representatives, representing Iowa's sixth district. 
The play was written by Samuel Gallu and will be directed by Hunter Foster, who will also be directing Clue at the Festival this summer. 
A biographical story about United States President Harry S. Truman, the play garnered its title from the 1948 election, when supporters shouted, "Give 'em hell, Harry!" during his speeches. 
"When we saw the tape of Fred Grandy as Harry Truman, we knew right away we needed to present this play," said Executive Producer Frank Mack. "Truman is a fascinating historical character, and in Fred's hands he comes to life in hilarious and profound ways. I'm delighted to share this exciting production with our audience."
The play chronicles Truman's life, from childhood to the two terms he served as president. Sometimes ridiculed by his opponents as "the little man from Missouri," Truman would leave the presidential office as one of the most influential leaders of the twentieth century. As vice president, he assumed office when Franklin D. Roosevelt passed away only weeks into his fourth term and as World War II was nearing an end. This put Truman in the position to make the difficult decision to drop the atomic bombs on Japan.  
The play captures Truman's indomitable spirit and infectious humor—best depicted in his famous photo holding a newspaper aloft with the inaccurate headline "Dewey Defeats Truman" the morning after he won the election. It also reflects his particularly American leadership philosophy that still resonates today, including his description of the voting booth as "the most valuable piece of real estate in America."
In 1975, the play premiere was hosted by Truman's daughter at Ford's Theatre. President Gerald Ford was in attendance, and the play then went on a six-city tour and has been re-staged many times since. 
 For more information on the play and to purchase tickets, visit wvcarts.org/harry.html.