Festival to Unveil Lady Macbeth Statue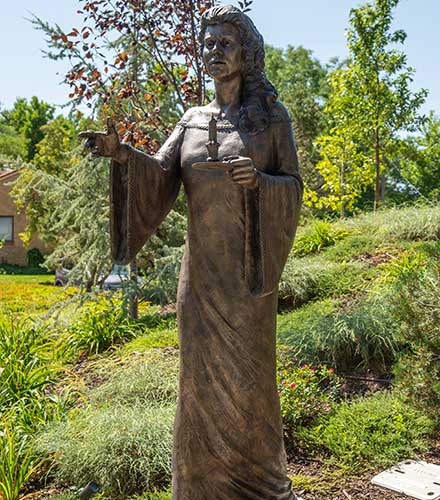 A life-size statue of Lady Macbeth will soon join eight other Shakespearean characters at the Utah Shakespeare Festival. The latest installment in the Pedersen Shakespeare Character Garden will be unveiled August 21 at 11:30 a.m. The garden is located between the Randall L. Jones and the Engelstad Shakespeare Theatres on the Festival grounds.
The statue was made possible by contributions from State Bank of Southern Utah (SBSU), and it was sculpted by Stanley J. Watts.
The public is invited to the short program which will include a welcome by Executive Producer Frank Mack, as well as remarks from Festival Founder Fred C. Adams and SBSU President and CEO Eric Schmutz. Special presentations will be made by Adams and Donn Jersey, Festival development director. Officials from SBSU will perform the unveiling.
The beautiful bronze statue captures Lady Macbeth holding a candle and wandering the corridors of the castle, stricken by her role in the murder of King Duncan. A plaque at the base of the statue quotes a gentlewoman who sees the forlorn lady wracked with guilt: "Lo you, here she comes! This is her very guise."
Other statues in the character garden include William Shakespeare, Juliet, Sir John Falstaff, King Lear, Hamlet, Henry V, Cleopatra, and Titania (located at the west entrance to the Randall Theatre).