Festival Welcomes 2023 Company During Arrival Day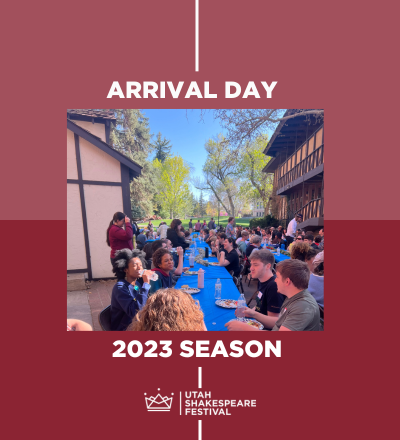 We are thrilled to announce that we welcomed the Festival's seasonal company last week! Monday, May 8, was arrival day for actors, directors, designers, and artists who checked in, attended group meetings, took tours, and excitedly gathered in preparation for the season to come. 
In the Randall L. Jones Theatre for the opening meeting, returning company members embraced one another while also welcoming those here for the first time. 
"Welcome to the 62nd season of the Utah Shakespeare Festival," Interim Managing Director Michael Bahr exclaimed. "We are so thrilled to have you here!" 
The number of seasonal artists who come each year and are required to put a season together is extensive and includes directors, designers, stage management, the performing company, voice and speech coaches, music directors/conductors/composers, fight and intimacy directors, choreographers, dramaturgs, hair and makeup artists, props artisans, costume and craft technicians, carpenters, painters, scenic artisans, electrics/sound technicians, guest services, concessionaires, and facilities personnel, among others. These groups of people are in addition to the year-round staff at the Festival. 
Following the welcome meeting hosted by Bahr and Interim Artistic Director/Director of New Play Development Derek Charles Livingston, the company wasted no time getting to work–– attending first rehearsals; checking out shops and work spaces; taking measurements for the performing company; and settling in for the magical season ahead. 
Publications Manager Marlo Ihler noted that the excitement was palpable during arrival day. 
"Meeting the incoming company members in person takes all the work we've been doing to prepare for this season to a whole new level," Ihler said.
Director of Development and Communications Donn Jersey compared the feeling of arrival day to that of a child on Christmas Eve.
"The company arrival day has the same appeal to me . . . the hurried anticipation of all the gifts that will fill me with joy," Jersey said. "To quote Lin Manuel-Miranda, the plan is to fan this spark into a flame." 
That evening the entire company, year-round staff, families and friends, and special guests were treated to an opening BBQ dinner, hosted by the Guild of the Utah Shakespeare Festival. It was held in the courtyard of the beloved retired Adams Memorial Theatre that the Festival used for decades. 
In the first rehearsal for A Midsummer Night's Dream with Director Jessica Kubzansky, cast, and crew, the director shared what she hoped the play would achieve this season. 
"There is so much hate in the world, I thought it was important that we tell a story about how we get to a place of more authentic and inclusive love. This is a story about humanity," Kubzansky said. 
Although Kubzansky was speaking about the play she is directing, this statement can be applied to the Festival's mission as a whole, as well as the productions this season. 
"At the end of the night people are changed and moved . . . and there is joy," Kubzansky said. 
That is exactly the feeling we hope you get when you attend a night (or afternoon) of theater––a kind of rejuvenation, healing, inspiration, and introspection.
We can't wait to see you when we open June 21, and in the meantime, our entire company and staff will be hard at work in preparation for a magnificent season.
Furthermore, after keeping our doors locked for the safety of our company and staff during the pandemic, we are excited to announce that our administration building is now open during business hours! Our front desk will now be staffed by both volunteers and our Company Management staff. Please visit us in the Festival Administration Building of the Beverley Taylor Sorenson Center for the Arts from 9am to 5pm Monday through Friday. 
For more information about the shows or to purchase tickets, call 800-PLAYTIX or visit bard.org/plays.