Festival Welcomes New Company Manager: Karin Edwards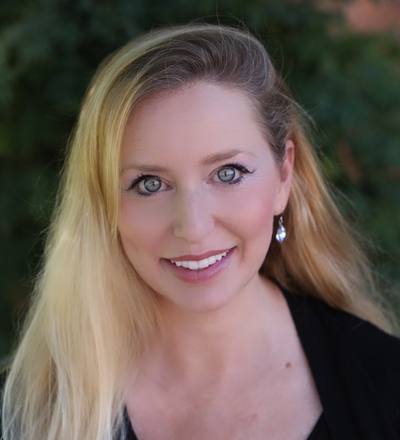 By Liz Armstrong
The Utah Shakespeare Festival is thrilled to welcome Karin Edwards as the new Company Manager.
"I am a pleasantly persistent perfectionist with a passion for people," Edwards said of her personal motto. "My superpower is connecting with people and leaving them feeling delighted in our interactions and eagerly anticipating the next time we cross paths."
Most recently Edwards was the Arts Programming Coordinator at Utah Tech University. She also has previous experience as a company manager, having fulfilled that role at the Tuacahn Center for the Arts for several years. She was also the company manager for the Disney Theatricals touring production of Beauty and the Beast.
"I'm excited to be back in the role of company manager. It's overseeing a group of people who need you––which I love," Edwards said.
She describes the role of a company manager as being both a logistics coordinator––handling things like housing and travel––and a caretaker for the seasonal company once they arrive.
"If they have an issue while at work or in their housing and can't find the answer on Google, they'll call me!" Edwards joked. "I love it because you build such strong relationships with people that last a long time."
Edwards received a Bachelor of Arts in Communications and Psychology at the University of Oklahoma, Norman, before a Master of Arts in the same subject at Brigham Young University. She is currently completing another master's degree in Public Administration at Southern Utah University.
Although Edwards participated in community theater in her youth, BYU was where Edwards realized that pursuing a career in theater was an option for her.
"It hadn't occurred to me that I could do that for a living," Edwards said. "My ex-husband was an actor, and I started doing things to be connected to the shows."
Starting out in merchandise, Edwards worked in the costume shop, and moved into management– where she found her niche. Now, she has 20 years of touring and experience in theater under her belt.
Edwards has lived all over the world, including New York City, the Dominican Republic, American Samoa, and Haiti. She moved back to Utah in 2010 when she took the company manager position at Tuacahn. Reflecting back, Edwards noted that her moving frequently while growing up prepared her for a life of being on the road with theater. Although she is now settled in Utah, moving and touring so often has taught her to be flexible and versatile.
Because she worked at Tuacahn only sixty miles south of Cedar City, Edwards is very familiar with the Festival already.
"We did ticket trade with the Festival, so we would come and see the shows all the time and bring actors from Tuacahn," Edwards said. "I was always super impressed with the way the Festival felt––there was so much pride in what the Festival staff did."
Edwards worked with a previous employee of the Festival, Ginger Nelson, who encouraged her to apply for the position, insisting she would be a perfect fit.
And Edwards is the perfect fit! As the newest addition to the year-round Festival staff, she wants everyone to be heard and have their needs taken care of.
"I want them to feel like someone has their back all the time," Edwards said. "And not only the actors, but all members of the company and staff. We are one cohesive family and part of something bigger."