Tradition and the Festival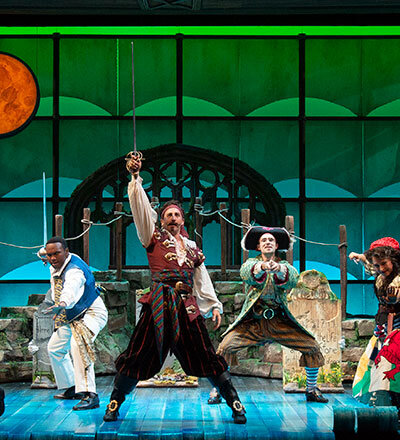 A scene from The Pirates of Penzance, with Rhett Guter as the Pirate King in the center..
By Rhett Guter
Editor's Note: This is first installment in a series of blog posts from actor and choreographer Rhett Guter. He has appeared in numerous roles since 2005, including Tom Tucker inH.M.S. Pinafore,Tommy Djilas inThe Music Man, Peter inPeter and the Starcatcher,and this year as The Pirate King inThe Pirates of Penzanceand Houdini inRagtime*. He also choreographed this season's*The Greenshow*and in past seasons has choreographed*The Music Man, Peter and the Starcatcher,*and*Anything Goes*.*
 Hey, Rhett Guter here! It's my pleasure to let you know that I'll be taking over the Utah Shakespeare's blog for the next couple of weeks! I'm an actor and choreographer appearing in the current season, and while Utah Shakespeare is celebrating its sixtieth season, it's only my eighth! 
 My first few seasons at Festival I was a tour guide on backstage tours. It was a great way to make a couple extra bucks over the summer. We'd start at 10:15 in the lobby of the Randall L. Jones Theatre. While it was my job to explain the inner workings of the Festival to the patrons, it was, in fact, I who would learn the most about the Festival while giving those tours. . . . Let me explain. At some point on the tour, once I had rattled off enough facts to fill anyone's head, I would turn the conversation to the patrons. I would often ask what shows people had seen or were planning to see; the response to this question was usually positive and complimentary and revealed the real reason they were there. 
 The patrons would share with me the number of years they had visited, their favorite places to stay or eat, how much they adored The Greenshow and the tarts, or which national park they planned to stop at on their way home. They would talk about the plays only briefly; they were much more eager to share their traditions. Somewhere between the Randall Theatre and the now retired Adams Shakespearean Theatre, I realized it was tradition, sometimes passed down through several generations, that was the lifeblood of the Festival. Much like Disneyland, people came here to create memories. (I don't why this surprised me so much; after all, Founder Fred C. Adams loved Disney!)
 This year has been a bit different, I can't give backstage tours, and there has been very little interaction with audiences. However, I'd still love to hear about your favorite memories and traditions at the Festival. Whether from this year or years past please shoot me a note at rhett@rhettmagic.com. I hope to know more about you.