Blog #2: My Favorite Memories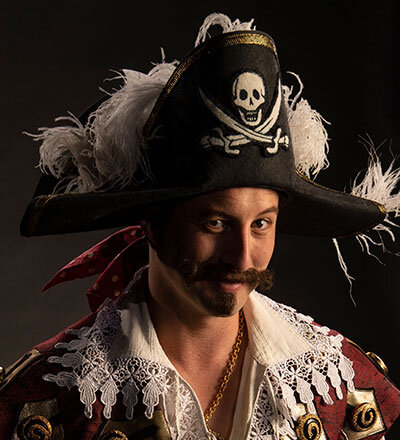 Rhett Guter as The Pirate King in The Pirates of Penzance.
By Rhett Guter
Editor's Note: This is second installment in a series of blog posts from actor and choreographer Rhett Guter. He has appeared in numerous roles since 2005, including Tom Tucker inH.M.S. Pinafore,Tommy Djilas inThe Music Man,Peter inPeter and the Starcatcher,and this year as The Pirate King inThe Pirates of Penzanceand Houdini inRagtime*. He also choreographed this season's*The Greenshow*and in past seasons has choreographed*The Music Man, Peter and the Starcatcher,*and*Anything Goes*.*
Hey, it's Rhett again! 
Thanks all for the responses from the last blog! The emails are still coming in. I'm loving the traditions and memories at the Utah Shakespeare Festival that are uniquely yours! I figure it's only fair that I share some of my favorite memories at the Festival.
*Camelot,*2005: My very first show at the Festival was this legendary musical, with Brian Vaughn (now artistic director) as Arthur and Brad Carroll as the director. 
*HMS Pinafore,*2006: This was my first Gilbert and Sullivan show. I played Tom Tucker the mute with no lines, but boy did I have a lot to say! 
Lend Me a Tenor:*The Musical,*2007: This world premiere went on to play the West End in London! Fun fact—there is now a character in the show named after me! 
*The Music Man,*2011: This was my first opportunity as a professional choreographer! To this day I think it is some of the best choreography I've ever created for the stage. I also played the role of Tommy Djilas
*A Midsummer Night's Dream,*2011: I played Francis Flute in this Shakespearean comedy, and it was the only show I did that was directed by Festival Founder Fred C. Adams. The BYUtv live broadcast was a night to remember, and we won an Emmy to boot!
*Peter and the Starcatcher,*2013: My absolute favorite. I was the choreographer and played The Boy. I could write a whole blog on this one—perhaps I will. . . . 
*Ragtime,*2021: Never have I been part of a more significant show. How can a story that takes place over 100 years ago, written over 20 years ago, still be so heartbreakingly relevant? Playing the role of Houdini, something of a hero to me, and the opportunity to bring my other passion (magic) to the stage makes this "one for the books." I mourn it's closing and hope you got an opportunity to see it. 
Till next week!