Till We Fly Back Home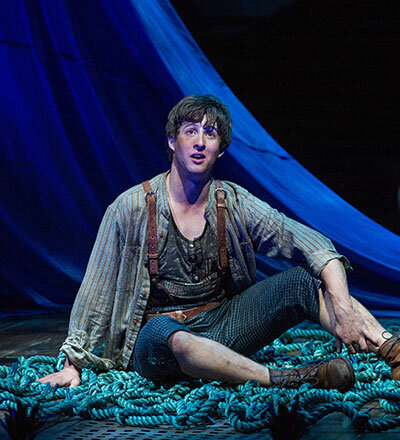 By Rhett GuterEditor's Note: This is fourth and final installment in a series of blog posts from actor and choreographer Rhett Guter. He has appeared in numerous roles since 2005, including Tom Tucker inH.M.S. Pinafore,Tommy Djilas inThe Music Man, Peter inPeter and the Starcatcher,and this year as The Pirate King inThe Pirates of Penzanceand Houdini inRagtime*. He also choreographed this season's*The Greenshow*and in past seasons has choreographed*The Music Man, Peter and the Starcatcher,*and*Anything Goes*.*
 You may have heard actors say something to the effect of "this is my artistic home." Certainly the Utah Shakespeare Festival is mine, but what does that mean? For me, it's where I came from, it's where my artistic DNA was forged. It was here, in quaint Cedar City, that I learned how to navigate the landscape of the American theatre. 
I can trace nearly every professional theatre job I've ever done back to the Festival, sometimes in multiple ways, and it's no wonder. I spent my very formative years studying theatre at Southern Utah University and the summers at the Festival practicing it. While the classroom provided the context, standing in the wings watching was the real lesson. 
My first big "role" at the Festival was playing The Boy who would later become Pan inPeter and the Starcatcher, the story of an orphan who, through an incredible adventure, discovers his family, his identity, and his home. When Brian Vaughn, the artistic director, called to offer me the role, I was elated. But, excited as I was, there was no way to comprehend the experience that was in store. The show was a success in many ways, and for me it opened a myriad of doors—so many, that after seven seasons at the Festival, it would be seven more till I would come back. 
I find it ironic that my first year back after Peter and the Starcatcher I found myself playing a pirate; and, while performing in the The Pirates of Penzance, I always chuckle to myself when Samuel says, "Of course: we are orphans ourselves, and know what it is."  
Boy, do I ever. 
As the season wraps up, I've been reflecting on how incredible this visit home has been. After this past year, I could not be more grateful to be back on the Festival stages performing for and with so many that have cheered me on since the beginning.
Thank you.
"And so may we go on and on . . . past all the jostles of life, till we fly back home."—Peter and the Starcatcher