Festival's Hamlet Receives BroadwayWorld Regional Awards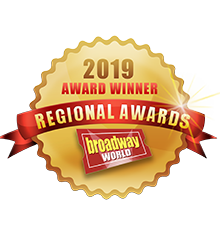 BroadwayWorld recently announced the winners of its 2019 Salt Lake City regional awards, and the Utah Shakespeare Festival's Hamlet walked away with an armload of prizes. The highly-praised Shakespearean tragedy won in the areas of Best Play, Best Direction, Best Actor, Best Lighting Design, Best Scenic Design.
In fact, Hamlet was recognized more than any other play in the non-musical category.
Regional productions, touring shows, and more were all included in the voting by audiences for plays that opened between October 1, 2018 and September 30, 2019. According to the BroadwayWorld website, 2019 had a record number of both nominations and votes.
Besides Best Play, other awards were for Brian Vaughn for best direction, Quinn Mattfeld for best actor, William C. Kirkham for best lighting design, and Jason Lajka for best scenic design.
The play was recognized throughout the 2019 season as a stunning interpretation and presentation of Shakespeare's popular and soaring tragedy.
"We are very proud of the artists that worked on this play and all our plays during the 2019 season," said Frank Mack, executive producer. "These awards recognize their creativity and hard work, as well as the work of our entire organization."
The complete list of awards can be found here.