Hamlet Like You've Never Seen It Before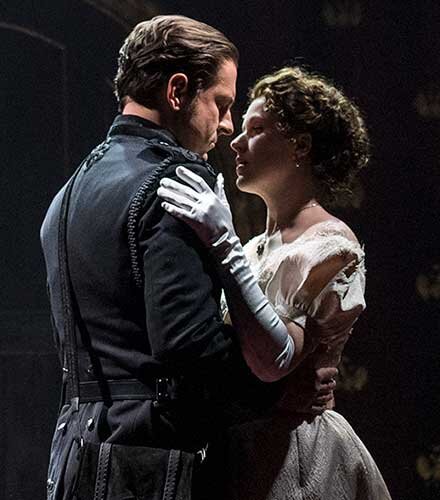 Quinn Mattfeld (left) as Hamlet and Emma Geer as Ophelia.
By Kathryn Neves
Odds are, if you've ever visited the Utah Shakespeare Festival, seen The Lion King, or attended a high school English class, you're familiar with the story of Hamlet. The tale of a Danish prince, a ghost, a murderer, and an impending war is immediately recognizable to millions of people around the world. It is, after all, one of Shakespeare's best—and most popular—plays.
With that in mind, it might be easy to say, "Oh, I've seen Hamlet. I know this story. Why should I go see it again?" The answer to that is simple: you've never seen Hamlet like this before. The Utah Shakespeare Festival's 2019 production of Hamlet, directed by Brian Vaughn and starring Quinn Mattfeld, is an astounding piece of theatre that casts the story of Hamlet in a brand-new light. Whether you've seen Hamlet once or a hundred times, it's worth seeing again for this interpretation. In fact, Russell Warne, reviewing the play for Utah Theatre Bloggers Association, says this production "is endlessly rewarding to watch."
One of the aspects of this show that especially stands out is its setting. Immediately upon entering the theatre, you can see the signs of Imperial Russia: the costumes, the set, and the snow piled on the stage all work to transport you back to the time of czars and revolutionaries. Vaughn explains that this show is not necessarily "a realistic Russia, but a fictional Denmark similarly woven toward a kingdom under age-old repression, arbitrary rule, and an extreme sense of nationalism—resonating anger, divisiveness, and despair." The changed setting of the play speaks well to Shakespeare's universality: the story of a Danish prince seeking to avenge his father feels real and significant in any time period.
Beyond that, Hamlet's themes of corruption, espionage, and tyranny fit very well in a Czarist Russia setting. "I was very intrigued by Claudius and his appeal to the masses; but, underneath, this is a king who is leading by fear, repressing the truth, and using murder as a tactic to keep the truth at bay," said Vaughn. The setting "helps isolate the lone figure of Hamlet, trying to discover the truth in this very fictitious landscape. Hamlet is mining for the truth underneath the layered façade."
But it isn't only the changed setting that makes this show worth seeing. This production brings the oft-overlooked character of Ophelia (played by Emma Geer) into a much more prominent role. Too often, productions of Hamlet tend to cast Ophelia aside as merely a victim of circumstance, a damsel-in-distress subject to the whims of the powerful men around her. However, in this production, Ophelia takes on more significance—as a confidante, an ally, and a key part in Hamlet's quest for the truth. "I wanted an Ophelia of great agency, who is deeply in love with Hamlet, and a Hamlet who is deeply in love with her," says Vaughn. "I wanted an Ophelia who was like Hamlet: intelligent, strong, and curious and who is helping Hamlet expose the truth in this court. Through her madness she exposes those around her to the machinations that they undergo to try to keep her and Hamlet at bay."
All this, of course, makes Ophelia's death in the play far more powerful and gives it an entirely new meaning. Without giving too much away, Vaughn's interpretation shows Ophelia's drowning as a powerful result of the duplicitous nature of the play's characters, and even of the play itself. "I wanted to add another layer to this corrupt kingdom," says Vaughn. "What is truth and what is fiction? . . . Gertrude reports the drowning of Ophelia, . . . and why didn't Gertrude do anything about it?"
This nuanced and layered Hamlet is enhanced by several of the staging effects. Snow piled across the stage and sometimes falling from the sky creates a striking effect that serves to emphasize the ever-present corruption of the court. It also illustrates the mental state of Hamlet himself. During one of his particularly compelling soliloquies, snow begins to fall from high above the stage. Vaughn explains, "I was very interested in . . . how the elements run in harmony with Hamlet's vulnerability in that moment . . . it's one of my favorite moments, as Hamlet is at his most vulnerable, and the snow became a metaphor for the truth that will never leave him. Hence its prescience in the scenic design. It is always present, just like the truth. You can push it to the corner, but it will always be there."
Rest assured, even if you know Hamlet well, this production will still surprise you. The beautiful stage design, the phenomenal acting, and the overall direction of the show come together to create a Hamlet unlike anything you've seen before. The Independent reviewer Brian Passey, agrees; the show "might just be the best version of the Bard's beloved play you'll ever see." And it's true; you'll leave the theatre feeling as though you've just heard Shakespeare's immortal words for the very first time.