Honoring the Life and Legacy of Beverley Taylor Sorenson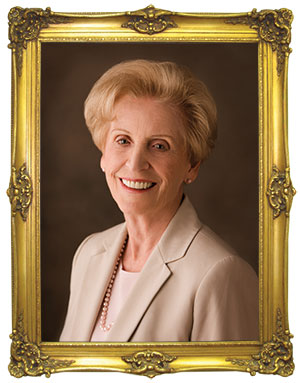 CEDAR CITY, UT - The Utah Shakespeare Festival will honor the life and legacy of Beverley Taylor Sorenson at its inaugural Salt Lake City gala event on Saturday, February 7 in the Imperial Ballroom of the Grand America Hotel. Proceeds from the evening will support the Festival Forever Endowment.
Co-chairing the event are Colleen B. Paddock and Jeffrey R. Nelson, members of the Festival's board of governors; and according to Paddock, they are delighted to host the first Salt Lake City-based gala at the beautiful Grand America. "It promises to be a magical evening benefiting the Utah Shakespeare Festival. A romantically divine atmosphere and a Valentine dinner will set the stage for everyone to enjoy."
"I am grateful for the tireless efforts of our board to assist with this event. Their commitment and energy are reflective of their love for live theater and enthusiasm about this world-class organization," added Nelson.
The evening's program will feature Carole Mikita as the master of ceremonies, vocalist Erica Hanson, artistic director David Ivers, silent and live auctions, as well as a performance by the Festival's Playmakers (part of the Festival's educational arm). The evening's highlight will be a special presentation to the Sorenson family.
During her long and celebrated life, Sorenson was a determined and effective advocate, strong in her belief that "all children receive the best possible education, an education that includes the arts." In 2013, the Sorenson Family Foundation made a generous gift of $6 million toward Southern Utah University's new center for the arts. This multi-million dollar arts center, now affectionately known as the Beverley Taylor Sorenson Center for the Arts, will blend educational facilities with visual arts, live theater and other artistic endeavors at the heart of the SUU campus.
The Beverley Taylor Sorenson Center for the Arts will dramatically magnify the cultural life of Cedar City and its surrounding region. It will also serve as home to the Southern Utah Museum of Art (SUMA), the new Engelstad Shakespeare Theatre, the Eileen and Allen Anes Studio Theatre, a rehearsal hall, offices and an artistic/production building for the Festival.
For more information or to purchase tickets, call 435-586-7880.