Q&A with Cymbeline Director Britannia Howe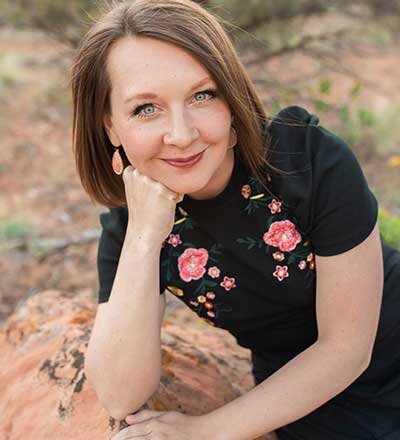 Britannia Howe
Britannia Howe wrote and directed The Greenshow for the Utah Shakespeare Festival in both 2018 and 2019. This year, she is making her Festival main stage debut by directing Cymbeline*, as well as once again directing and writing* The Greenshow. *She has also directed at Cabaret Theatre, the Eugene O'Neill Theatre Center, Women of Will, and Innovative View Theater Company. We think you will be interested in her plans for Shakespeare's* Cymbeline *to be produced in the Eileen and Allen Anes Studio Theatre.*
The Utah Shakespeare Festival: Cymbeline has only been produced at the Utah Shakespeare Festival twice before (1988 and 2002), but you have mentioned that this is one of your favorite Shakespearean plays. Why do you like the play so much, and why do you think this play is not produced more often?
Britannia Howe: The show itself is a puzzle. Written in Shakespeare's last years, many are critics to the text.  Yet it is a favorite of mine because it reads like a classic storybook. There is a sense of mystery that may be difficult to explain: potion-mixing, the forest, a secret cave that a family dwells in, and sword fighting—a mirror to classic story books. When reading it, I am reminded of the classic sketches of artist Arthur Rackham, who illustrated King Arthur, Sleeping Beauty, and A Midsummer Night's Dream.
I also think that audiences will recognize Shakespeare's tropes and symbols as they sit and enjoy Cymbeline for the first time. What I mean by this is that Cymbeline is full of plot points, props, and tricks from other Shakespeare work. There is a myriad of these examples: two lovers marry in secret (Romeo and Juliet), a woman protagonist dressed as a man (As You Like It), a deep sleep poison (Romeo and Juliet), a complicated father–youngest daughter relationship (King Lear), Iachimo's deceptions and his name (Iago in Othello), lost children reunited (The Winter's Tale), and a daughter lost and reunited with her father (Pericles). I'm excited for audiences to seek these out without prompting. Audiences will find familiarity and lean in.
Because it is a tragi-comedy, I could see that many theatres may find it difficult to label and produce. The first half of the show feels more comedy, but one of Shakespeare's strengths is using antithesis; so the play has tragedy, too; and it ends with a family reuniting.
The Festival: You are designing this production as a "trunk show." Can you explain what that is and why you are presenting the play in this manner?
Howe: A trunk show is a play with few actors, where the only props and costumes used are contained in a single trunk. From the beginning I have imagined Cymbeline as a "manuscript of wonder." The story unfolds as the actors speak Shakespeare's text and they pull items from the trunks to place on themselves. It is as if the trunks are filled with stories just waiting to be opened, similar to this story that often collects dust on a shelf because it is seldom-produced. Not all objects and costumes will be pulled from the trunk, yet all objects are important for they are tokens for the story. Traditionally trunk shows were portable performances that traveled from town to town bringing familiar stories and magic. This performance is not portable and will not be traveling but it will be performed in the Anes Studio Theatre in an intimate setting. Some of my favorite performances have been in the Anes Theatre as adaptations or time-period changes to Shakespeare's plays.
 When presenting this idea to the designers I was pleased to hear that they too were excited about a trunk show. As theatre practitioners, we speak of doing a trunk show, but it is very rare that we actually do one. Instead of one trunk, we will be using many to reveal primary props that will propel our story forward.
 I also think that many of these characters carry baggage figuratively, and we will explore this in rehearsal. Actors will be playing multiple characters and this will help facilitate quick costume changes as well.
The Festival: In your preliminary director's notes, you say "Cymbeline is an opportunity for audiences to come together and understand themselves and their place in an arbitrary universe." Would you please elaborate on that idea?
 Howe: Families and friends are separated in the story, and at the moment in the play, it may seem arbitrary, or for no specific reason, but we find by the end of the performance that there are connections. Whether it be the work of fate, providence, or deities, the characters in this play forgive and are reunited to find their place.
The Festival: You and your team have cut the script some, which isn't uncommon at most theatres. Can you explain a bit what you cut and why?
 Howe: Yes, Lezlie Cross, our dramaturg, and I worked closely to make a cohesive adaptation to fit eight actors. Many of these actors will be playing two or three roles for the show, so it was essential to make the play ensemble-friendly. Another thing that was important to me was gender parity, so you will find that some of the roles have had pronoun changes. The biggest script change comes in the beginning of the play. Usually, there is a sort of introduction where two gentlemen give us a trigger event and backstory. Instead, we have adapted it where all eight actors will deliver us the backstory as an ensemble and then hurl us into the story.
 The Festival: You directed The Greenshow in 2018 and 2019 (and are doing so again in 2021), but this will be your first time at the helm of one of our main stage productions. Any thoughts on returning to the Festival in this expanded role?
 Howe: As a young child I would peer over the banister on my tippy toes at the old Adams Theatre to watch the plays. The Festival is a second home for me, and I credit the company for some of my theatre-education. As a spectator I witnessed composition, character, relationship by sitting in those orange seats. The Greenshow is the heartbeat of the Festival as it shares tradition, music, and laughter with the community. Yet, I am looking forward to using Shakespeare's words, his text on the stage of the Anes Studio Theatre.
 The Festival: Besides theatre business, what is the one thing you plan on doing while in Cedar City?
 Howe: Hiking the red rocks! I mentioned the Festival was my second home, but I've since moved away. I currently live in Illinois, and I miss the sunshine and the red rock. It's funny because the West feels both new and old. It's where people travel to when they get lost. Historically that's what people have done, travel West, a sort of pioneer spirit.