A Romantic Adventure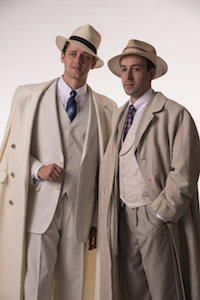 Utah Shakespeare Festival Blog – The Two Gentleman of Verona
John Maltese (Valentine) and Jamie Ann Romero (Silvia)
The Festival's Fall Season kicks off with The Two Gentleman of Verona. Chock-full of confused men and cunning maidens, this dizzying romantic adventure will delight anyone who has ever been in love (or would like to be). New company members arrived in late August and rehearsals are underway.
John Maltese, who plays Valentine (one of the two gentlemen) and Jamie Ann Romero, who plays Silvia (his love interest) are both new to the Festival. We sat under the trees during a crisp autumn morning and talked about their thoughts on the play and the Festival.
Tell us about the play and this production:
John:      It's set in 1920 – modern era. It's really fun – we get permission to make it accessible. I think the themes in the play are already accessible. You have themes of friendship and love. You have two guys who are falling in love with women for the first time and dealing with all of the confusing aspects and complications of that. These young people are leaving home for the first time. They're dealing with disappointment – actually deep, trust-breaking disappointment. And they're growing up.
Jamie:   These four lovers are newly navigating this thing called love and trying to figure out how to work their way through it: how to woo, how to fall in love and how to stay in love. Silvia is only interested in one guy. One of the wonderful things about her is that she's fiercely loyal. Not just with Valentine but also with her gender. Once Proteus starts to woo her, she will have none of it because she wants to protect this woman Julia whom she's never met. I think that is wonderful
John:      The neat thing about the show is we get to see Valentine take a pretty big journey. He's about to leave his home town in Verona, have adventures, learn about courtly life and meet new people The very next time you see him he's madly in love. He's a character of extremes. There are moments when he's extremely vulnerable and maybe lacks confidence and other times when he's very bold. Once he makes up his mind, he's committed. But life happens to him.
How would you answer someone who says "I've seen this play before – no need to go again"?
John:    I think having Robynn Rodriguez as a director is a perfectly good reason. One thing she's focused on in rehearsal is this is not going to be a shallow, throw away comedy. There's going to be a lot of depth and truth and humanity in it. I think it's going to be relatable, going to have a lot of peaks and valleys. It's going to be a big journey that you see. She's really pressed us to have human moments and to play real people. It's going to be three dimensional.
What are your thoughts about being here for the first time?
Jamie:   I love it! I've always wanted to work here and now I am!
John:      I'm really happy to be here because at so many of the other theatres where I work, the actors have been at the Festival. Everyone around the country knows Brian and David.  It's great to be here and be in the spaces and work with the people you've heard so much about.
You can learn more about the play and this production at http://www.bard.org/plays/2015/the-two-gentlemen-of-verona. The Two Gentlemen of Verona opens in preview on September 24 and runs through October 30. You can purchase tickets online at www.bard.org or by calling 800-PLAYTIX.
#2gents #utahshake