Shakespeare's Heroines: Imogen in Cymbeline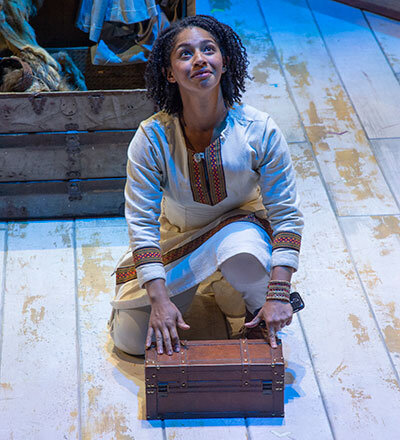 Constance V Swain as Imogen in Cymbeline. (Photo by Karl Hugh.)
By Kathryn Neves
            There's no shame in reusing plotlines—and let's be honest, Shakespeare was a pro. You'll find the same stories over and over throughout his canon. And that's not a bad thing! It just makes the stories more universal. Cymbeline is a great example of a play that reuses stories, yet is unique and compelling. Cymbeline's heroine, Imogen, goes through plenty of Shakespeare's classic plots. Just like Shakespeare's other heroines, Imogen is made all the more interesting for her story's archetypes.
            One plot that comes up a lot in Shakespeare's works involves a heroine dressing as a man in order to accomplish a goal. Rosalind, Viola, and Portia are all great examples. Rosalind dresses as Ganymede to protect herself and her cousin, Celia. Viola dresses as Cesario to work for Duke Orsino. Portia disguises as Balthazar to save Antonio. And, in Cymbeline, Imogen dresses as a young boy named Fidele to escape the wrath of her husband, Posthumus. Imogen, like the others, is a proactive heroine. She saves herself; she takes control of her own destiny—an important trait in a heroine, to be sure.
            Shakespeare also really liked the idea of bringing people back to life. Throughout his plays, many heroines "die," only to be revived at a crucial moment in the play. This revival adds a sort of emotional climax to the plays; whether moments of rejoicing or sorrow, "coming back to life" is an important plot point in many of Shakespeare's plays. There are a few examples. Juliet comes to mind; she takes a potion and "dies," only to be revived toward the end of the play (too late, unfortunately). Then there's Hero, from Much Ado About Nothing; she fakes her death in order to teach her fiancé, Claudio, a lesson. The Winter's Tale's Hermione collapses at her trial, is declared dead, and returns in the end to be reunited with her husband. Imogen is no exception. During Cymbeline, she is "poisoned" by her evil stepmother; like Shakespeare's other heroines, she seems to be dead, until she suddenly awakens—as it turns out, the "poison" was a sleeping potion.
            Finally, the very crux of Cymbeline is a plot that Shakespeare used often, and effectively. Imogen is framed for being unfaithful to her husband; she is falsely accused and punished unfairly. Othello comes to mind in this instance; Desdemona, another of Shakespeare's beloved heroines, is accused of infidelity, and murdered by her jealous husband. Then, there's Hero again—her fiancé accuses her of being unfaithful, and breaks off the wedding at the altar. And once again we have Hermione; her husband Leonatus believes that she had an affair with his best friend, and imprisons her. However, these heroines eventually prove their innocence and live happily ever after (with the exception of Desdemona, unfortunately). Like the others, Imogen is a faithful and constant heroine.
            Cymbelineis one of Shakespeare's finest, full of stories we all know and love. Like Shakespeare's other heroines, Imogen is complex and well-rounded. She may be at the center of plenty of reused stories; but if anything, she's a more compelling character because of it. Her story may be recycled—but it's no less universal.