Interim Artistic Director to Tackle One-Man Show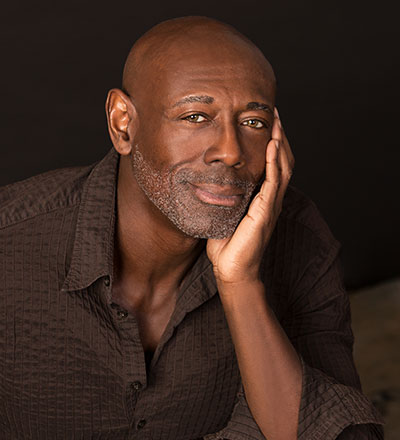 By Liz Armstrong
Derek Charles Livingston, the Utah Shakespeare Festival's interim artistic director, has taken on quite the challenge: In the one-man show Thurgood, he will be chronicling the story of Thurgood Marshall as well as playing several other characters onstage for ninety minutes. 
Livingston has played the role before, but it is still a daunting task to bring to life a giant figure in the civil rights movement and the first black Supreme Court justice in the United States.
 "It's a one-person show, but it's a full-length show, and so I'm speaking the entire time. One of the challenges is diving back into the text to remember the lines as they're written," Livingston said. 
Because he is playing a plethora of characters, studying their individual dialects and becoming a student of history was extremely important as Livingston prepared for the show. In addition to Marshall, he plays Marshall's father, his two wives, one of the judges he faced, a doctor, two attorneys, and a teacher, to name a few.
"YouTube has been one of my great friends to study speech patterns and where they've come from. There's an amazing interview with Marshall's widow, and you get her intonation and the way she speaks, and so I could study that," Livingston explained. 
But recorded video isn't available for every single character, and so Livingston also had to improvise. President Lyndon B. Johnson, for example, was easy to research, with recorded political speeches easily accessible. But one of the young attorneys, John W. Davis, Livingston didn't have the opportunity to hear from. "The play tells me he speaks in smooth southern cadence, but his dialect is going to be different from LBJ's," Livingston said. "So I made his dialect up."
The playwright had to remember the voice of Marshall but do it in a way that was interesting to audience members. Livingston also explained that because he lives in the voice of Marshall throughout the majority of the play, he also has to bring his own voice to the character.
"For that span of time you really can't develop that much mimicry. I have to balance the way Marshall spoke, but also it has to sustain my voice as well to speak for ninety minutes," Livingston explained. 
The actor said that anyone who loves America and the constitution should come and see Thurgood. "It's an opportunity to get to know someone that had a tremendous impact on this country that people may have not studied or learned about," Livingston said. "He had a great impact on history, but it's also a balanced play, and there are very funny moments and there are really hard-hitting moments."
To get your tickets or to learn more about Thurgood, visit bard.org/plays/thurgood or call 800-PLAYTIX.