Jean Valjean Is Back!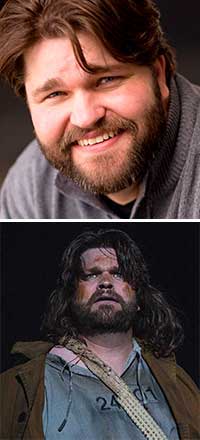 Jean Valjean is back!
J. Michael Bailey, who played Jean Valjean in the Utah Shakespeare Festival's production of Les Misérables in 2012, is returning this summer to play the equally powerful role of Sweeney in the Stephen Sondheim musical Sweeney Todd.
"I am excited to welcome J. Michael Bailey back to the Festival," said Executive Producer Frank Mack. "He is a great Utah-based performer and I am thrilled our audiences will get to see his great artistry on the Festival stage again." 
"I am absolutely thrilled to be back at the Festival!" Bailey said. "It is my favorite place on the planet to perform—the outside venue, the talented acting company and artistic teams—I just can't get enough of it."
Besides his critically-acclaimed role as Valjean in Les Misérables, he has appeared at the Festival in Hamlet, Macbeth, The Secret Garden, Foxfire, and Great Expectations. He has also appeared at numerous other theatres throughout the United States and Canada, including Pioneer Theatre Company, Encore South Bay, Sundance Theatre, Salt Lake Acting Company, Encore Musical Theatre Company, West Valley Arts, Utah Musical Theatre, and Tuacahn Amphitheatre. He is also a singer-songwriter with three studio albums and the original cast recording for White Chapel the Musical as Jack the Ripper.
"I am very grateful to be here and for the trust Frank and the rest of the administrative and directing team have put in me," said Bailey. "Sweeney is a bear of a show but the Festival production is going to be something else. The talent is huge! I am so blessed to be back here performing a role I love with people I love even more."
The 2022 season of the Utah Shakespeare Festival runs from June 20 to October 8 and includes All's Well That Ends Well, Sweeney Todd, King Lear, The Sound of Music, Trouble in Mind, Clue, The Tempest, and Thurgood, as well as all the experiences surrounding the plays, such as The Greenshow, seminars, orientations, and Repertory Magic. Tickets and information are available by calling 800-PLAYTIX or going online to bard.org.