Keeping Up with the Lancasters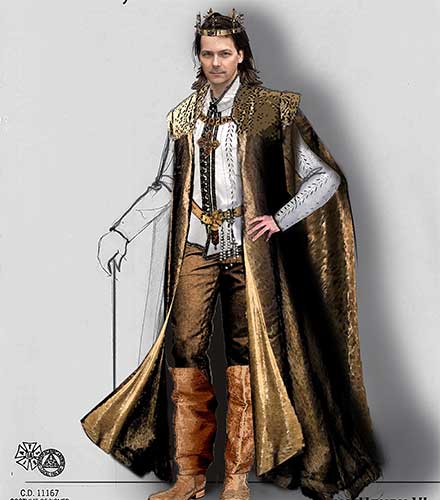 King Henry VI costume design by Lauren T. Roark
By Kathryn Neves
The last few years have seen a rise in British family dramas. With shows like The Crown and Downton Abbey, it's easy to see why complicated families make such entertaining stories. But this isn't a new trend— no, it goes all the way back to Shakespeare!
This year at the Utah Shakespeare Festival, we're continuing one of the biggest family dramas in history. Henry VI Part One, though not often produced, is a captivating look into England's crazy family dynamics. Now, you don't need to be an expert on the English royal family to enjoy this season's production, but Henry's family history is too exciting to ignore. Let's take a closer look at the family behind some of Shakespeare's masterpieces.
The story really starts with Edward III—Henry VI's great-great-grandfather. Whether or not Shakespeare wrote a play about him is debatable— but even so, Edward is at the crux of this ongoing family crisis. After studying his family tree, Edward decides (much to France's chagrin) that he is the rightful king of France. And thus, the Hundred Years' War is born. Although he eventually admits that he isn't France's rightful king, his actions leave a bitter taste in the French mouth for decades to come.
Edward has many children, and three of them are major players in this ongoing drama: Edward the Black Prince, the heir to the throne; Lionel, Duke of Clarence; and John of Gaunt, Duke of Lancaster. Unfortunately, the Black Prince dies before his father, so when Edward III eventually passes, the rightful heir is his grandson; the Black Prince's child, Richard II. Because he is only a baby, his uncle John of Gaunt is left to care for the kingdom while Richard grows up.
As you might know if you have been following our history cycle, Richard II is a very bad king. Corrupt, weak, and extravagant, Richard finds himself very unpopular with his family— especially with Gaunt's son, Henry Bolingbroke. And when Gaunt dies, instead of letting Bolingbroke rightfully inherit his father's wealth and lands, Richard seizes it all for himself, sending Bolingbroke into a frenzy. He rallies up an army and takes over the throne. After declaring himself King Henry IV, he imprisons and murders Richard. Not a great way to treat a cousin, if you ask me.
Naturally, the rest of the family is not extremely pleased with Henry IV's behavior. One group of cousins in particular hates Henry the most; the grandchildren of Lionel, Duke of Clarence. Because Lionel was born before Gaunt, his descendants believe that they have more of a right to the throne than Henry does. So Henry IV spends his entire reign fighting off his own family to keep the throne for himself— eventually passing it on to his son, Henry V.
Henry V's reign starts off with a whole lot of excitement. Like his great-grandfather, Edward III, Henry decides that he deserves the French crown more than the current French king. And, as you probably remember from two seasons ago, Henry does pretty well in France; he wins major battles and gains a lot of land, as well as the hand in marriage of the French king's daughter, Katherine of Valois. Things seem to be going well for Henry.
But meanwhile, there's another player in the story; someone who will upset everything for Henry and for his infant son, the future Henry VI. His name is Richard, the Duke of York. He's the great-great grandson of Lionel of Clarence, Edward III's second son. He's also the grandson of Edmund of York, Edward's fourth son, on his father's side. This makes him Henry V's second cousin, twice removed. And he wants the throne too. After all, he is from the Lionel's, who, in his opinion, really deserve the throne. As if that isn't enough, Richard also wants revenge: Henry V's line, the Lancasters, have killed Richard's father. So, while Henry V lives out the rest of his life, Richard bides his time.
After dying quite young from dysentery, Henry V leaves his throne to his infant son, Henry VI. And because the new king is so young and weak, France decides to make their move: Henry V is dead, so they want their land back. And now is the perfect time for Richard York to move in too. After gathering a group of rebels, Richard starts a fight against the Lancasters for the throne— thus kicking off the War of the Roses. Richard goes on to have several children, two of whom will eventually become king—but enough of that. I won't spoil it for you.
Watch Henry VI Part One this summer! With warfare, witchcraft, and good-old-fashioned family drama, you'll be on the edge of your seat. It's a thriller that moves us ever closer to the conclusion of Shakespeare's history cycle.
(And if you forget anything, take a look at this family tree– we won't tell. It's your own little cheat sheet!)