King Lear Banned in England?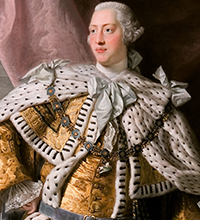 By Liz Armstrong
Considered by many to be not only Shakespeare's stormiest tragedy, but his finest as well, you may be surprised to learn that King Lear was banned from England's stages during the reign of King George III. 
To find out why this popular play was forbidden, however, it's important to dive into and understand the perplexing character of King Lear. Many describe the king as cruel, blind to his own faults, and extremely unlikeable. It is Lear's lack of common sense that leads to the deaths of many, as well as to the ultimate downfall and destruction of his family. His need for flattery and the desire to test his daughter's love and loyalty shows Lear's instability, but it also earns the sympathy of the audience. He is a complex—and very human—king.
Shakespeare scholar William Hazlitt described Lear's unstable temperament: "The explosions of his passions are terrible as a volcano: they are storms turning up and disclosing to the bottom that rich sea, his mind, with all its vast riches," Hazlitt said. "It is his mind which is laid bare."
Shakespeare wrote the play sometime between 1603 and 1606, and it was first performed around 1608 in the First Quarto. In 1623, the First Folio of the play was published, with significant textual differences. The version of the play we are most familiar with today is a conflation of these two early versions. 
The tragedy hit English stages for the next twenty years, until Oliver Cromwell closed down all theatres in Britain. Resuming its stage presence when King Charles II took the throne, it was rewritten to have a happy ending in the late 1600s. You read that right, Shakespeare's most famous tragedy was no longer a tragedy. This version of King Lear was performed for nearly 100 years, until around 1788 during the Regency period. This was during the reign of King George III, who took the throne in 1760.
King George III and King Lear seemed to have alarmingly similar parallels. Although the character was based on Leir of Britain from medieval times, Shakespeare's Lear and King George were both aging British kings suffering bouts of madness. King George died both blind and deaf in 1820. Known for being the "mad king," he suffered from a blood disorder called porphyria. However, in an article by BBC News, the symptoms showed that the king also most likely suffered from severe bipolar disorder. 
As the play progresses, Lear descends into insanity, much like King George III did during his reign. In 1788, King George III had his first bout of madness, and in 1810, when he suffered again, the play was officially banned out of respect for the ruler. 
Interestingly enough, the play may have been banned for other reasons as well. In 1815, Samuel Taylor Coleridge, a fan of Shakespeare's, wrote that the language in King Lear was too crude: "Shakespeare's words are too indecent to be translated . . . his gentlefolk's talk is full of coarse allusions such as nowadays you could hear only in the meanest taverns," Coleridge said. A more family-friendly version was published by Thomas Bowdler, and this was the version most accessible to the public. 
In 1823, actor Edmund Kean wanted to play the role of King Lear the way Shakespeare had written it, but it was heavily rejected by the audience. It wasn't until 1838, when actor William MacCready took on the role, that the play was performed again in true tragedy-style, and close to Shakespeare's original intentions. 
King Lear has been through quite the journey. From being banned in Britain, the play has made an immense comeback, world-renowned as one of Shakespeare's greatest and most popular tragedies. It is in its most true and tragic form that Vincent J. Cardinal will direct the play this summer.
Tickets for the 2022 season are now on sale at bard.org or 800-PLAYTIX.