"Let the Dog Be the Dog": Comedy, Forgiveness, and a Loveable Mutt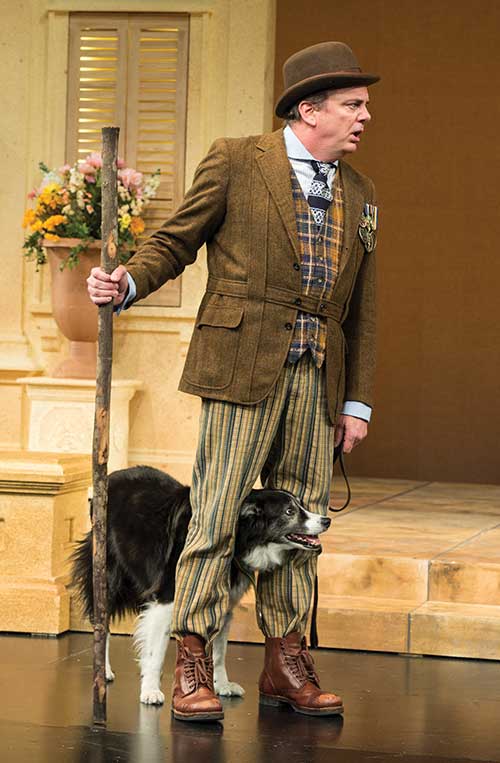 Chris Mixon as Launce and Jake as Crab in The Two Gentlemen of Verona, 2015. Photo by Karl Hugh.
What does an actor do when, in the middle of a comic scene in front of a full house, the dog who appears with him on stage begins to wander toward the wings? "You let the dog be the dog," says Utah Shakespeare Festival actor Chris Mixon, "trusting that his training kicks in, and he stays where he should."
Mixon, who is appearing as the comic servant Launce in The Two Gentlemen of Verona, faces dilemmas like this nearly every performance with his canine costar, Crab. He admits sometimes he has to be quick on his feet, but the dog's training and the time the two have spent together pays off, and the show continues.
Crab is played by Jake, who is trained by Nick Massey. "Nick is really good at bonding him to another person, and has taught me how to communicate with Jake," says Mixon.
However, as much as audiences love Launce and his canine friend, The Two Gentlemen of Verona is not all about a loveable dog or its comic "owner." Instead the romantic comedy tells the story of two sets of adolescent lovers who are at times inconstant, impulsive, emotional, self-involved, and ultimately forgiving.
The play is about change and being imperfect, says Mixon. "The Two Gentlemen of Verona challenges our notion of happy endings. The people are flawed, and we have to forgive them in the end."
This inconstancy is much more evident in the two young men in the play, than in their female loves. According to Mixon, men care about themselves, their own ambition, which "I think allows for inconstancy without forethought." Women, especially Shakespeare's women, care about the world around them and in the broader picture. "Shakespeare brings a woman on the stage when he wants to bring the world on the stage."
In the end, the four lovers do transform. As director Robynn Rodriquez says, "four young people take the first stumbling steps toward becoming gentlemen—and gentlewomen."
Yet, in between all these machinations between the four young lovers, comes the comedy of Launce and Crab, offering a bit of humor but also a grounded pragmatism, perhaps a counter-balance to the four adolescents, an admission that the world is complex and varied, and a sure sign of a master playwright at work.
Tickets are now on sale for The Two Gentlemen of Verona, Charley's Aunt, and Dracula, currently being performed Tuesday through Saturday until October 31. For more information and tickets visit www.bard.org or call 1-800-PLAYTIX.