Let's All Be Help-Fall: The Festival Hosts 18th Annual Fall Food Drive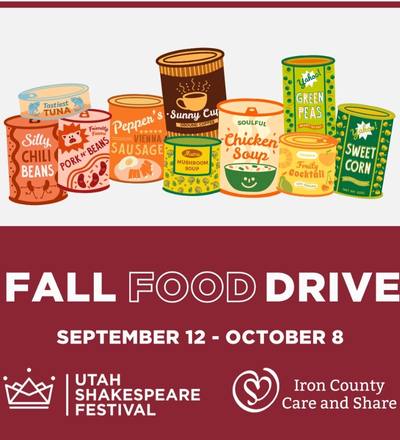 By Liz Armstrong
The Utah Shakespeare Festival will be holding its annual Fall Food Drive from September 12 to October 8. 
The Festival has partnered with the local Iron County Care and Share to give back to the community by providing food to those in need. 
By donating five items of non-perishable food items, those participating in the food drive will receive a half-price ticket to the play of your choice. 
This promotion replaces the standard local discount, but there is no limit to the amount of half-price tickets given. Premier Seating is excluded and the promotion is unavailable Sept. 29 and 30. 
Local residents of Iron, Beaver, Washington, Kane, Garfield, Piute, and Lincoln counties are eligible for ticket discounts. Please bring proof of residency to the ticket office. 
Iron County Care and Share is a private, non-profit organization dedicated to providing compassionate assistance and resources to individuals and families in need, offering them exits from crises and pathways to increase their stability and self-sufficiency. 
It was founded in 1984 by local churches to address hunger in the community, and almost 40 years later, the Care and Share is still working to help those in need.
This year, there is a special need for canned meat, peanut butter, stews, soups, canned fruits, and vegetables. 
The  Festival typically receives over 3,500 pounds of food each year for the Iron County Care and Share. Hosting its 18th annual Fall Food Drive, the hope is to gather just as much - if not more - to contribute. To participate, bring food items to the barrels located outside the Festival ticket office when purchasing tickets. 
This offer is not available online. For questions, call 800-PLAYTIX.
Monetary donations are being accepted as well. Click here to donate to the Iron County Care and Share.