Long-Time Festival Actor and Director Passes Away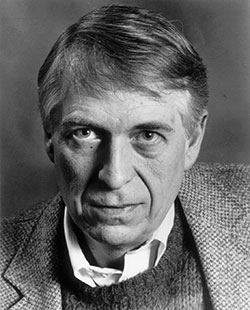 It is with great sadness but with memories of a life well lived that the Utah Shakespeare Festival announces the death of Howard Jensen, who appeared at the Festival as an actor in its opening year and has returned many times since to act and direct.
Jensen, 73, died Saturday evening, December 13 at his home in Bloomington, Indiana. He is survived by his brother Dale Jensen and wife Carol, two sisters Beverly Markos and Donna Vee Sorensen and husband Leland, close friend Julie Jensen, and the many theatre students who were inspired by his talent, dedication, and love of theatre.
Howard was born in Salina, Utah and grew up in the tiny rural town of Redmond where he saw a children's theatre production during his early childhood. Ultimately, that experience lead him to pursue a career in theater. After receiving an undergraduate degree from the University of Utah, he spent two years on active duty in the army. Subsequently, he received his M.A. from the University of California, Davis and his Ph.D. in theatre from Wayne State University where he was an actor in the renowned Hilberry Theatre. Howard joined the faculty of the Department of Theatre and Drama at Indiana University, Bloomington in 1972. In 1976 he was appointed head of the department's Acting and Directing Program. The ultimate strength and national recognition of that program was due in no small measure to Howard Jensen's leadership.
During his career at Indiana, Howard directed scores of plays including A Streetcar Named Desire that opened the new Brown County Playhouse in 1977 and Death of a Salesman that opened the Ruth Halls Theatre in 2001 in the Lee Norvelle Theatre and Drama Center. Prior to joining the faculty at Indiana University, he was an actor and founding member of the Utah Shakespeare Festival and later directed more than a dozen productions for the company. He was also a visiting director at such distinguished theatre festivals as the Alabama Shakespeare Festival and the Oregon Shakespeare Festival. And, on occasion, he continued to work as an actor with the Indiana Repertory Theatre.
Howard Jensen's numerous awards and honors are indicative of his impact on the theatre locally, regionally, and nationally. In 1989 he was honored by Arts Indiana as a "State Arts Treasure," in 2001 the Utah Shakespeare Festival named him one of the forty most "illustrious persons who have illuminated our lives," and in 2002 he received the Indiana University Trustee's Teaching Award.
Howard Jensen will be always be remembered as a talented artist and teacher by his students, colleagues, and long-time friends both inside and outside Indiana University. He died peacefully, thanks to Hospice and especially his care-giver/nurse Allison Tomusk. Contributions in Howard's memory and in support of classical theatre may be made to the Howard Jensen Endowment Fund at the Indiana University Foundation.