Get to Know Playwright Lynn Nottage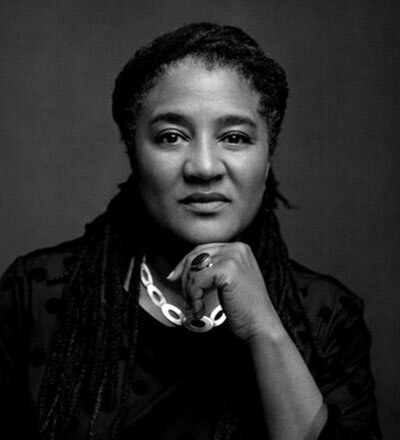 Playwright Lynn Nottage
By Martine Green-Rogers
"Nottage's imaginative exploration of history, her ability to find resonance in unexpected moments in the past, and her sensitive evocation of social concerns have made her a powerful voice in theater. She is a dramatist who will continue to provide us with provocative plays in which her characters confront some of society's most complex issues."
— McArthur Foundation Website
Lynn Nottage, playwright and screenwriter, is the only woman to win the Pulitzer Prize for Drama twice. She was born on November 2, 1964 in Brooklyn, New York, to Ruby Nottage, a schoolteacher and principal, and Wallace Nottage, a child psychologist.
She graduated from Fiorello H. LaGuardia High School, and while there, she wrote her first full-length play, The Darker Side of Verona, about an African-American Shakespeare company traveling through the South. She earned a bachelor of arts in 1986 from Brown University, a master of fine arts in 1989 from the Yale School of Drama, and a doctorate of fine arts in 2011 from Brown University.
Her plays include Mlima's Tale; By the Way; Meet Vera Stark; Ruined (Pulitzer Prize); Intimate Apparel (American Theatre Critics and New York Drama Critics' Circle Awards for Best Play); Fabulation, or The Re-Education of Undine; Crumbs from the Table of Joy;Las Meninas;Mud, River, Stone;Por'knockers;The Secret Life of Bees (with music by Duncan Sheik and lyrics by Susan Birkenhead), and POOF!
Her play Sweat (Pulitzer Prize), premiered at and commissioned by the Oregon Shakespeare Festival American Revolutions History Cycle/Arena Stage, moved to Broadway after a sold-out run at the Public Theater. Inspired by her research on Sweat, Nottage developed This Is Reading, a performance installation based on two years of interviews, at the Franklin Street, Reading Railroad Station in Reading, Pennsylvania.
In addition, she is the co-founder of the production company, Market Road Films, whose most recent projects include The Notorious Mr. Bout, First to Fall, and Remote Control. She was also a writer and producer on the Netflix series She's Gotta Have It, directed by Spike Lee.
Nottage is the recipient of numerous grants and awards including a MacArthur "Genius Grant" Fellowship, Steinberg "Mimi" Distinguished Playwright Award, PEN/Laura Pels Master Playwright Award, Merit and Literature Award from the Academy of Arts and Letters,  Doris Duke Artist Award, Nelson A. Rockefeller Award for Creativity, The Dramatists Guild Hull-Warriner Award, the inaugural Horton Foote Prize, Helen Hayes Award, and the Jewish World Watch iWitness Award. Her other honors include the National Black Theatre Fest's August Wilson Playwriting Award, a Guggenheim Grant, Lucille Lortel Fellowship and Visiting Research Fellowship at Princeton University.
Last, but certainly not least, Nottage has received honorary degrees from Juilliard and Albright College.
About Playwriting
Nottage has said in numerous interviews that she feels that she writes with the marginalized in mind, and more specifically that she is interested in uncovering untold stories. She states, "not just theatre but art . . . has to reflect what is happening in the culture. Responsibility is not quite the right word, but I do think there is a role for us to play in asking difficult questions, reflecting back what we see" (Compton, Sarah, "Playwright Lynn Nottage: 'We are a country that has lost our narrative" [The Guardian, 2 December 2018]).
As such, she recognizes the trials of getting plays produced. Plays with a large cast, such as Ruined, are harder to get to the production phase. She states "Plays are getting smaller and smaller, not because playwrights' minds are shrinking but because of the economics" (Nestruck, J. Kelly, "Interview with Playwright Lynn Nottage" [The Globe and Mail, 10 February 2010]).  She feels that plays like Intimate Apparel, with its small, multicultural cast, makes it a popular choice for regional theatres.
Intimate Apparel is set in 1905 and centers on the story of Esther Mills, an African American seamstress, who makes lingerie for the wealthy women and the ladies of the night. Esther's entire world shifts when the owner of the boarding house she lives in gives her a letter from a man in Panama and she begins to correspond with him. Digging into the world of blackness and immigration while also excavating what it means to be a newly married couple who, in the end, barely knew one another before marrying allows Nottage to bathe this world in all of the complexities of life in the 1900s.
Nottage has done many interviews about why she wrote Intimate Apparel. She has stated that the play is about the "confluence" of immigrants coming in from Eastern Europe and the African Americans moving from rural areas in the south to larger urban areas and what that means in the bedroom (Nestruck).
The genesis of the story began with a passport photo of her great grandmother that was a mystery to her. She knew her great grandmother was a seamstress, but the avenues to find out more about her and the photograph were cut off because her mother has recently passed away. She went to the New York Public Library in an attempt to find out more, and a year later, Intimate Apparel was written. As she states, "All my plays are about people who have been marginalized," people "who have been erased from the public record" (Soloski, Alexis, "Lynn Nottage: Intimate Apparel and what lies beneath my plays" [The Guardian, 28 May 2014]).
Nottage talked to Alexis Soloski of The Guardian about the rather unconventional setting of the play. She states that she "placed a bed in the middle of every scene, 'because I wanted to see the way in which it impacts interactions. Even if the bed isn't used, even if no one sits on it, how does that change the sexual dynamic, the social intercourse?'" Soloski goes on in the article to state how that framing of the bed in the scenes "keeps the play focused on questions of intimacy. Relationships range from those which are physically passionate but devoid of emotional affection to those . . . which are rich in love, but entirely chaste." These chaste but deep relationships anchor the play and the interest for Nottage in these relationships is evident in the depth of the friendship between Esther and Mr. Marks. As Soloski says, "To see Esther and Mr. Marks together is to feel the almost unbearable poignancy of love denied." It is this type of emotional ride that makes the play both relatable and almost tragic. To craft a story like this, with some basic facts about her great grandmother, and a host of other stories from Black women of the time period, that makes this a genuinely heartfelt story.