Join Us for the Second Annual "Make a Scene"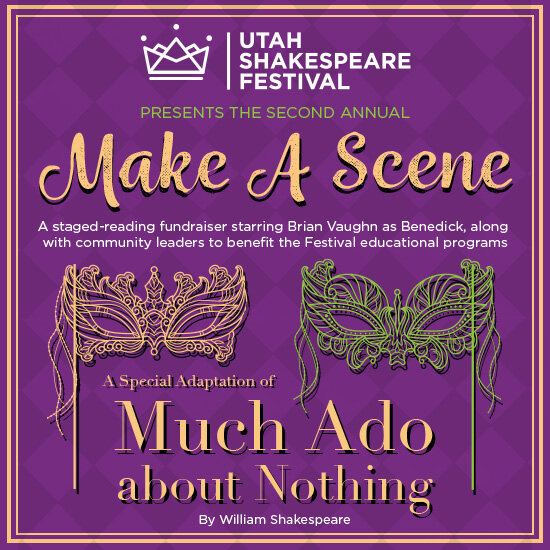 The Utah Shakespeare Festival is inviting everyone to join them in the second edition of the most popular fundraising event in its history. The second annual "Make a Scene" festivities will be March 5 at 6 p.m. in Harman Theatre in West Valley City—featuring an elegant dinner and stage appearances by Utah government, business, and media notables.
Harman Theatre is located at 3333 Decker Lake Drive in West Valley City.
The evening will feature a staged reading of a shortened version of the hilarious Shakespeare play Much Ado about Nothing. Festival Artistic Director Brian Vaughn will play Benedick, and Kymberly Mellen, a well-known actor at the Festival and across Utah, will play Beatrice, two of Shakespeare's most famous and joyful combatants and lovers. Utah politicians, business leaders, and media personalities will fill in all the other roles: the evil Don John, the bumbling constable Dogberry and his hilarious deputies, the young lovers Hero and Claudio, and many more.
Cast members confirmed thus far include Governor Gary R. Herbert and First Lady Jeanette Herbert; Lieutenant Governor Spencer J. Cox and his wife, Abby; Senator Don Ipson; Mary Brown Malouf, executive editor at Salt Lake Magazine; Boyd Matheson, opinion editor at Deseret News; Carole Mikita, senior arts and religion reporter at KSL; Representative Rex Shipp; Senator Evan Vickers; and Representative Elizabeth Weight.
An elegant buffet dinner will proceed the performance.
"We did this event last year for the first time, and it was great fun. This year should be even better," said Executive Producer Frank Mack. "After a beautiful dinner together, we will go into the theatre for a short, script-in-hand reading of Shakespeare's Much Ado about Nothing, featuring unlikely performances by leaders of the business, government, and media communities in Utah—alongside great professional actors."
This joyful play has been performed many times at the Festival, but our "guest stars" will bring a whole new level of hilarity and familiarity to the comedy as you recognize faces from various other business and government stages appearing on the show-biz stage of Harman Theatre.
"Performers from last year's events included Lt. Governor Spencer J. Cox and Abby Cox; Doug Fabrizio from KUER; Evan J. Vickers, Senate majority leader; State Representative Patrice Arent; and many others," said Development and Communication Director Donn Jersey. "Casting is on-going for this year, but we have a few surprise announcements to make in the coming weeks."
"This is a uniquely fun way to raise critical funding for the Festival's education programs," added Mack. "I am grateful to everyone who supports this event, including our friends in West Valley City who do much to make the event so great."
The ticket price is $275 and is all inclusive; no additional fundraising will be part of the event.
For information, the latest information, and to order tickets, visit bard.org/make-a-scene, call Director of Development Donn Jersey at 435-865-8002 or Development Associate Emily Duncan at 435-586-7877, or email jersey@bard.org.