Make Your Own Meat Pie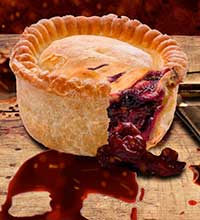 By Liz Armstrong 
"Mrs. Lovett's meat pies, savory and sweet pies." Ah, Mrs. Lovett, that entrepreneurial baker, serving up London's most popular meat pies, thanks to the secret ingredient provided by Sweeney Todd's upstairs barber shop.
After watching Sweeney Todd this summer at the Utah Shakespeare Festival, that wild and revenge-filled play may leave you in the mood for meat pies. Okay . . . well, maybe not. But, just in case you would like a tasty meat pie (without the murderous ingredient), here is a recipe from the Utah Shakespeare Festival that just might fill your craving:
Ingredients
— 1 medium potato (peeled and cubed)
— ½ pound ground beef
— ½ pound ground pork
— ⅓ clove garlic (chopped)
— ½ cup onion (chopped) 
— ¼ cup water 
— ½ teaspoon mustard powder
— ½ teaspoon dried thyme 
— ½ teaspoon ground cloves
— 1 teaspoon salt 
— ¼ teaspoon dried sage
— 1 package refrigerated pie crusts (15 ounces)
Directions
Step 1: Preheat oven to 425 degrees. Place the potato in a saucepan with enough water to cover. Bring to a boil, cook until tender (about 5 minutes). Drain, mash, and set aside. 
Step 2: Crumble the ground beef and pork into a large saucepan and add the garlic, onion, and water. Season with the remaining spices. Brown over medium heat, stirring to mix in spices and crumble the meat. Remove from heat and mix in potato. 
Step 3: Place one of the pie crusts into a 9-inch pie plate. Fill with meat mixture, then top with the other pie crust. Pierce the top of the crust a few times with a knife to vent steam. Crimp around the edges with a fork, and remove any excess dough. Cover the edges of the pie crust with aluminum foil. 
Step 4: Bake for 25 minutes or until the crust is browned. 
And there you have it! A delicious meat pie, just like Mrs. Lovett's, sans Sweeney Todd's victims.