Festival Theatres "Mask Friendly"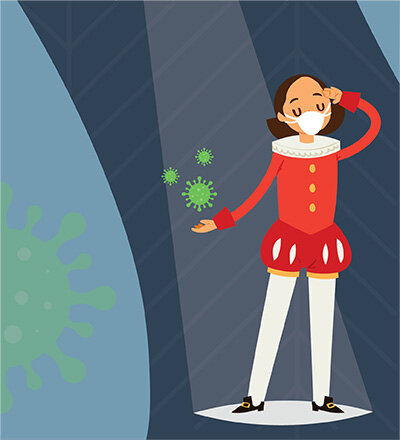 The Utah Shakespeare Festival has announced that all its theatres, indoor and outdoor, will now be "mask friendly." This is made possible by an adjustment in the COVID-19 guidelines from Actors' Equity Association, the national actors and stage managers union.
The outdoor Engelstad Shakespeare Theatre had previously been operating under these protocols, but now the indoor Randall L. Jones and Eileen and Allen Anes Studio Theatres will also be mask friendly. This means that masks are not required, but those who wish to wear one may certainly do so. The Centers for Disease Control advises that unvaccinated people should continue to wear masks at indoor public events.
Executive Producer Frank Mack said, "It is wonderful to see artists and audiences together again on the Festival stages. The 2021 season is just amazing to behold and all our audience members can feel comfortable about wearing a mask, based on their preference."
"We appreciate the concern and patience of all involved as we have opened our 2021 season this past week, sometimes with rapidly changing guidelines," added Donn Jersey, director of development and communications. "But our patrons, actors, artists, and staff have been wonderful in helping us safely produce what is shaping up to be an amazing season."
The Festival's 2021 season plays through October 9. Plays are Pericles, Richard III, The Comedy of Errors, The Pirates of Penzance, Ragtime, Cymbeline, Intimate Apparel, and The Comedy of Terrors. Tickets are available by calling 800-PLAYTIX or visiting www.bard.org.