Meet Director Christopher V. Edwards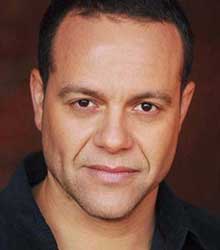 By Allison Borzoni
What should a playgoer expect when he or she enters a theatre to see a play with a title like Shakespeare's Long Lost First Play (abridged)? Granted, the script was originally created by the world-famous Reduced Shakespeare Company, and the Festival's production is a regional premiere. But, what is this play?
Well, according to Director Christopher V. Edwards, it's an exciting and hilarious look at what might happen if forty-nine of Shakespeare's characters are brought together on the same stage.
The show attracted Edwards because it's "something a little lighter and fun and irreverent. This is a play that just allows people to come into a place and enjoy it together, regardless of their politics or where they land on an issue." This show continues the tradition of uniting an audience through character-focused, improvisational comedy, and even bringing audience members up on stage. If you're still unsure of what to expect, Edwards described the show as, "Saturday Night Live meets In Living Color meets Monty Python." So prepare yourself for a broken fourth-wall and Shakespearean and other references you'll find familiar.
But when forty-nine Shakespearean roles are performed by only three actors, you might expect some challenges in the costume department. It is, granted, hectic; but, luckily, it's not as crazy as you might think. Edwards explained, "The cool thing about the Reduced Shakespeare Company's plays is that they usually involve quick-changes that are very minimal costume changes. Adding a vest, adding a crown, or adding a wig." In a whirlwind of costume pieces, the cast will take you to places throughout Shakespeare and guide your eye from Hamlet to Beatrice to Richard III.
Would Shakespeare himself enjoy the show and all of its contemporary references? "I'm not an actual scholar, but I think he would enjoy it," said Edwards. "I also think he in his plays was referencing his own time. He was doing plays set, for instance, in Rome and Italy, but he was referencing London during the period. And I think the Reduced Shakespeare Company is doing exactly that. They're pulling straight from the headlines." Shakespeare is famous for his jokes and insults, so when the Reduced Shakespeare Company brings that humor into modern English, it's definitely a good idea to go and see it for yourself.
Here's some final advice from Edwards: "Be ready to wear some comfortable shoes, be ready to engage, and be a part of the show. This show isn't just about coming in and being an audience member. The (few) audience members who come up on stage each night will make the show different." Ready or not, here comes Shakespeare's Long Lost First Play (abridged).