Festival Feature: Meet Terry Alexander, Stage Manager for Jane Austen's Emma The Musical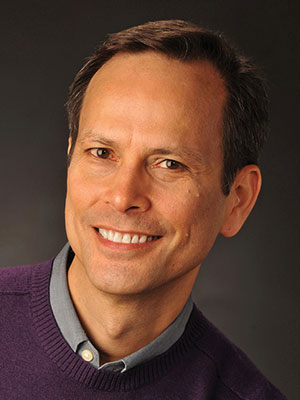 Terry Alexander has been a part of the Utah Shakespeare Festival's seasonal artistic staff for a total of 22 years. This season is the stage manager for Jane Austen's Emma The Musical in the Randall L. Jones Theatre. 
"I love coming back here and working; it's kind of my work home," Alexander said. "It's where I cut my teeth and have learned what I know about stage management." 
About Terry Alexander 
Alexander received two bachelor's degrees, one in business from the University of North Carolina at Chapel Hill, and another in theatre performance from University of South Florida, Tampa. 
His first year as a production assistant at the Festival was in 1994, when he was in graduate school at University of Delaware. Although Alexander was originally accepted into the acting program at UD, he transferred into stage management, where he earned his Master of Fine Arts.
The first shows he stage managed were Henry V and The Boyfriend in 1997. Alexander loves stage management because he gets to be both creative and technical. 
"I get to use both sides of my brain," Alexander said. "I have a business and performance background, and so I get to use skills from both. I can contribute artistically, as well as in the maintenance of the show."
Some of his favorite shows he has stage managed at the Festival include Stones in His Pockets (2005), The Foreigner (2018), Hamlet (2019), and The Pirates of Penzance (2001 and 2021).
About Stage Management 
The job of a stage manager is critical to the production process and changes throughout the season. At the beginning, Alexander strives to create an environment where directors and actors are free to be creative in the rehearsal room.
"I make sure that the time we have in rehearsal is used efficiently, that actors know when they're going to be needed, and act as eyes and ears for the designers," Alexander said. 
He also acts as a "hub" of communication between the various departments at the Festival that affect the production on which he is working. 
"I write rehearsal reports, where I include questions from directors, what happens in rehearsal, and more," Alexander said. 
In the reports, Alexander will include notes about making alterations to costumes, when and where scenery or props should be moved on and offstage, and many other details. As stage manager, it is critical to communicate and keep track of specifics such as these during the entire process.
During technical rehearsals, Alexander works with the designers to coordinate lighting and sound effects. It's during technical rehearsals that Alexander makes sure that costume, prop, and scenery changes run smoothly. 
"After the director leaves once the show is open, the artistic integrity of the show is in my hands," Alexander said. "The show continues to grow, and the actors do too as their relationships with the characters deepen. I oversee that their ideas still fit in with the director's vision." 
In attendance at every performance of Emma throughout the season, Alexander will be behind-the-scenes with his headset, calling cues and helping run the show. 
About Jane Austen's Emma The Musical
"For Emma, I have about 400 light cues," Alexander said. "I'll call the cues and then the board operator will hit the button that the lighting designer has programmed into the show, which will change the lights into the next look." The same process is followed for scenery changes as well.
Alexander noted he is constantly talking into the headset, communicating lighting and scenery cues. He also completes performance reports, which is a summary of the production and includes things that need attention or that may have gone wrong, such as costume mishaps. 
Although he is working a show at the Randall L. Jones Theatre every day, Monday through Saturday throughout the season, Alexander said that performances aren't repetitive because he is keeping an eye on so many things. 
"Every show is different," Alexander said. 
And Alexander loves his job. He's felt fortunate to work on Emma this year. 
"I get to go to work every day and be around people who enjoy the same things I do. It's something that you don't get in every profession," Alexander said. "I feel very fortunate to be here at this time with these people, as the interactions I have with them makes me a better person." 
Alexander loves Emma in particular because the play points out how complex it is to be a human being. 
"We want to tell stories that resonate with people in different ways, and Emma helps us look at ourselves in a lighter way—we can laugh at ourselves and our foibles," Alexander said. 
Ultimately, Alexander likes being a storyteller and being a part of the communal aspect that theatre provides. 
"Theatre brings forth what it is to be human in a very physical and visceral way…that's what brings me back to loving what I do—being able to contribute to that." 
Don't miss out on this season's Jane Austen's Emma The Musical, The Play That Goes Wrong, Coriolanus, and Timon of Athens, which run through October 7. For more information, to purchase tickets, and more, visit bard.org or call 1-800-PLAYTIX.