Meet the Festival's New Leadership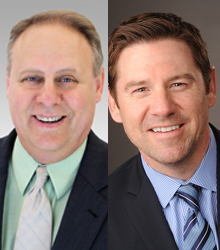 CEDAR CITY, UT—After two major announcements and leadership changes in the past few weeks, the Utah Shakespeare Festival now has the right leaders to steer it into the future. Frank Mack, a veteran of theatre companies across the country, was named as executive producer and will head the Festival in the coming years. Brian Vaughn, who has served six years as co-artistic producer, was named sole artistic director when David Ivers announced he was leaving. Vaughn will oversee the artistic side of the Festival.
To help you get to know these two personalities better, the Festival communications team recently asked Mack and Vaughn a series of questions about the Festival and their thoughts of the future. We think you will enjoy their answers:
Question: What does the future of the Festival look like to you? Do you foresee changes you would like to make in the next few years?
Mack: So much about the Festival works so beautifully, there is a lot to maintain rather than change. But everyone working at the Festival should be seeking ways to put even better performances on stage and create even better experiences for our audience. The quest to find creative ways to produce the finest art possible is why we work at an arts organization in the first place, and although we don't expect perfection, we should always pursue a "more perfect" way of producing great theatre.
Vaughn: The future looks bright. The next few years will be about efficiency and sustainability, how our shops work in relation to the opening of the Beverly Taylor Sorenson Center for the Performing Arts and the many ways in which we continue to provide the top-notch quality of theatre our audience expects.
What are the biggest strengths of the Festival?
Mack: The Festival's greatest strengths are its high level of professionalism in producing the shows and making the experience of seeing them so satisfying. That's the legacy of founder Fred C. Adams. But maintaining and growing that legacy is far easier said than done. Sustaining and deepening the artistic quality and the overall audience experience will demand a full measure of devotion of all of the Festival's constituent parts—volunteers, artists, craftspeople, technicians, administrators, board members, and the community at large.
Vaughn: The quality of performances, the incredible people who work here, the wonderful facilities (including a beautiful outdoor theatre reminiscent of the Globe), the wrap-around services that are included with the ticket price (The Greenshow, seminars, etc), our location in relation to national parks, the community of Cedar City and Southern Utah University, and our audience base are some of the biggest strengths of the Festival.
Question: How do you see the relationship between executive producer and artistic director working?
Mack: Artists and managers work closely in every major professional theatre in the US. This long-standing tradition has enabled boundaries and lines of communication that serve arts organizations well and enable the best possible artistic achievements. This collaborative approach is ideally suited to serve the Festival as a way for the executive producer and artistic director to work closely together to bring the full creative potential of the Festival to bear and produce great theatre. I am enthused to work with an artist of Brian's skill and talent, given his artistic development as an essential part of the Festival.
Question: What kind of plays do you think the Festival should be producing?
Mack: Great shows! Fortunately, with Shakespeare as our cornerstone, we have a canon of great plays written by him to serve as the foundation of our seasons. But we seek to produce plays by other great dramatists. The secret to great seasons is diverse offerings. Because we want our audiences to have an extraordinary experience, we need to provide not only world-class classical theatre, but intriguing new plays as well. That's why the addition of Words Cubed is such an essential part of the Festival's future. It not only gives audiences a different experience, seeing new plays in a 200-seat black box theatre, but if gives Festival artists exciting new opportunities and helps us discover the next Shakespeare.
Vaughn: We are a classical-based theatre with the plays of William Shakespeare as our centerpiece. These offerings are balanced with other contemporary plays, musicals, and new work that provide a wide assortment of offerings for our audience. The artistic philosophy is producing and creating engaging, enlightening work that challenges, inspires, and entertains.
Question: Theatre attendance nationwide seems to be decreasing. Why? And how do you combat this?
Mack: Professional theatre national attendance trends are a mixed bag. There is no question from numerous data sources that attendance patterns have changed after the last major recession. Subscription sales are substantially lower, but single ticket sales have increased for many organizations. The Festival does not sell subscriptions but operates as a destination theatre, where attenders often travel for an immersion experience that includes not only the plays but related activities such as seminars, talk-backs, The Greenshow, and theatre-craft demonstrations. This positions the Festival to do well given the shifting participation trends.
Vaughn: I think we live in an interesting time. Immediate entertainment options are more readily available at our fingertips. We can quickly download a movie or television program to our phones or iPad and watch it at our leisure in our own time. The challenge is making the event of live theatre a priority with people's spending options. A unique aspect of the Festival is that we are a destination theatre. You have to travel to come here, stay in a hotel, dine out. This is both a strength and a weakness. Our goal over the next few years is providing engaging art that comes across the footlights and into the collective laps of our audience.
So, is theatre still relevant?
Mack: Early hominids were painting in caves and dancing by firelight. These early humans were struggling to survive, and there is no evidence that the commitment of effort and resources required to paint those caves or dance by those fires did anything to secure the necessities of life. Nonetheless, early humans danced and painted and very likely told stories. So why is theatre still relevant? It has always been relevant and it always will be relevant. It's imprinted in the essence of our species. We are destined to examine our nature though stories and artistic expression of all kinds. In the twenty-first century, we tell stories through movies, television, and online series of all kinds. But there will always be a place in our culture where we can gather live, with the performers in the same room, and experience a story together. It's an essential part of who we are.
Question: And, is Shakespeare still relevant?
Vaughn: Shakespeare will always be relevant. His plays have lasted for centuries and will always provide a lens into who we are as human beings. No other playwright captures the essence of feeling and emotional exploration like Shakespeare. His plays will always resonate and will always be a mirror in which we see ourselves.
Question: Why are you personally involved in this industry and art?
Mack: Theatre changed my life. I grew up as a musician—playing classical piano. But by high school, I was adrift, uncertain of what I wanted to do, be, or how to fit in. On a lark, I auditioned for the high school musical because I could read music and thought I might make some new friends. It changed my life. I never wanted to leave the theatre, and, in fact, haven't. I can't play piano very well any more, but I found in theatre more than just new friends. I found a purpose and direction for my life that exceeded any expectation I previously held for a future as an adult engaged in a satisfying and exciting career. . . . I recognize the artistic process as the greatest, most effective and efficient process of creating anything; I now seek to take that process into the administrative work of the organization and harness its creative power to transform administration into a collaborative, creative, and energized process. It's exciting and transformative when we do it well.