From an Old Golf Cart to a Model T Ford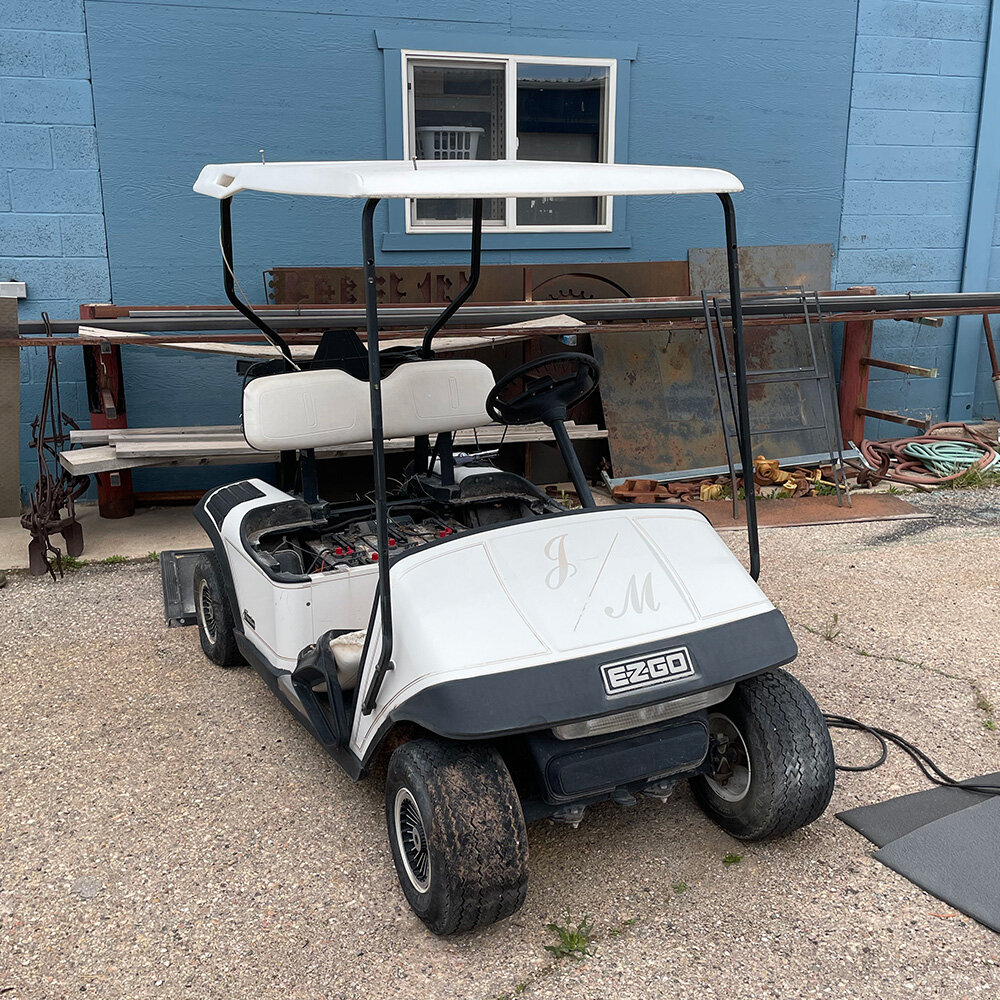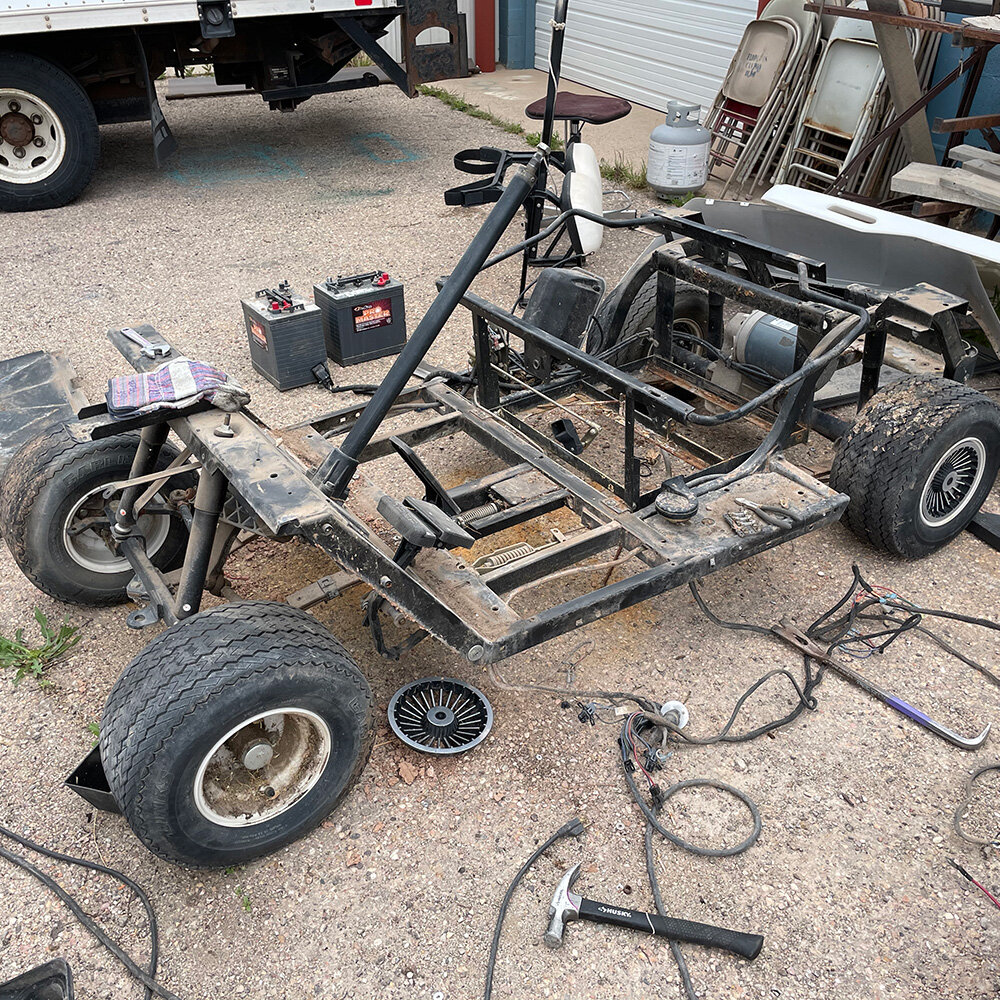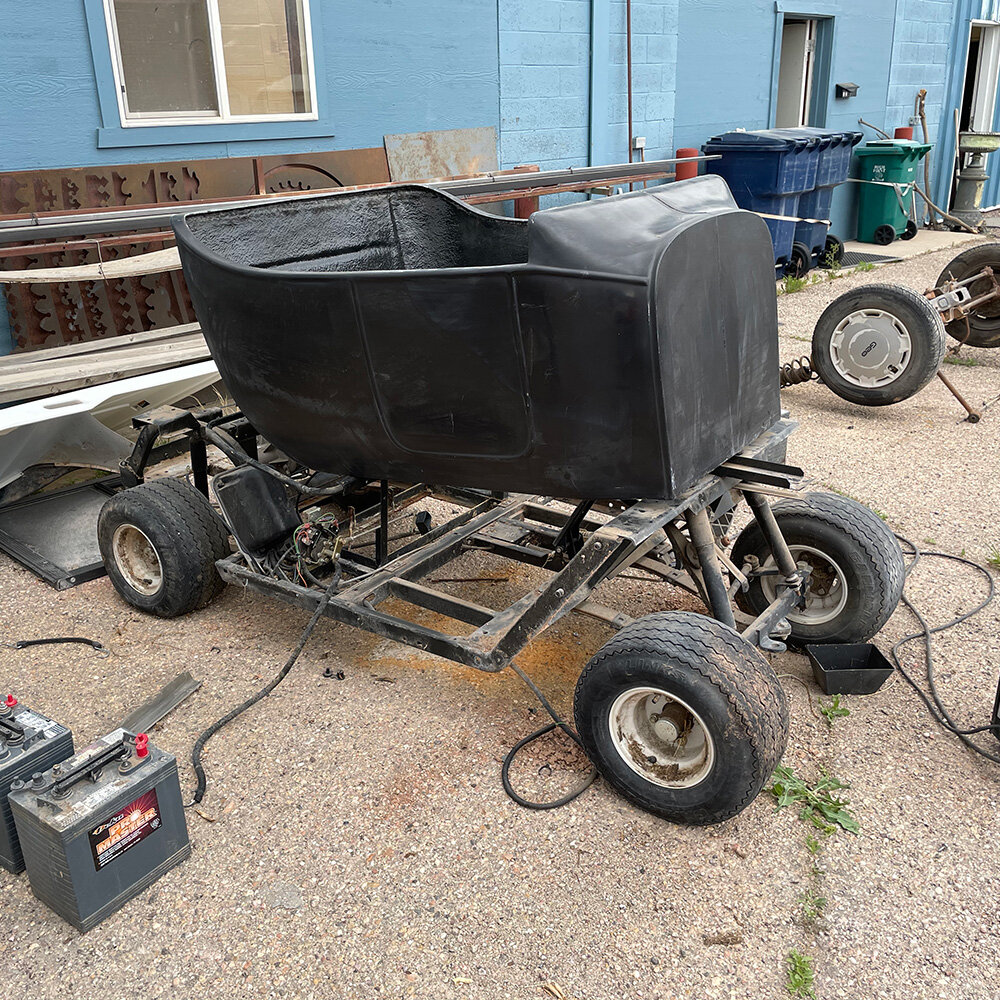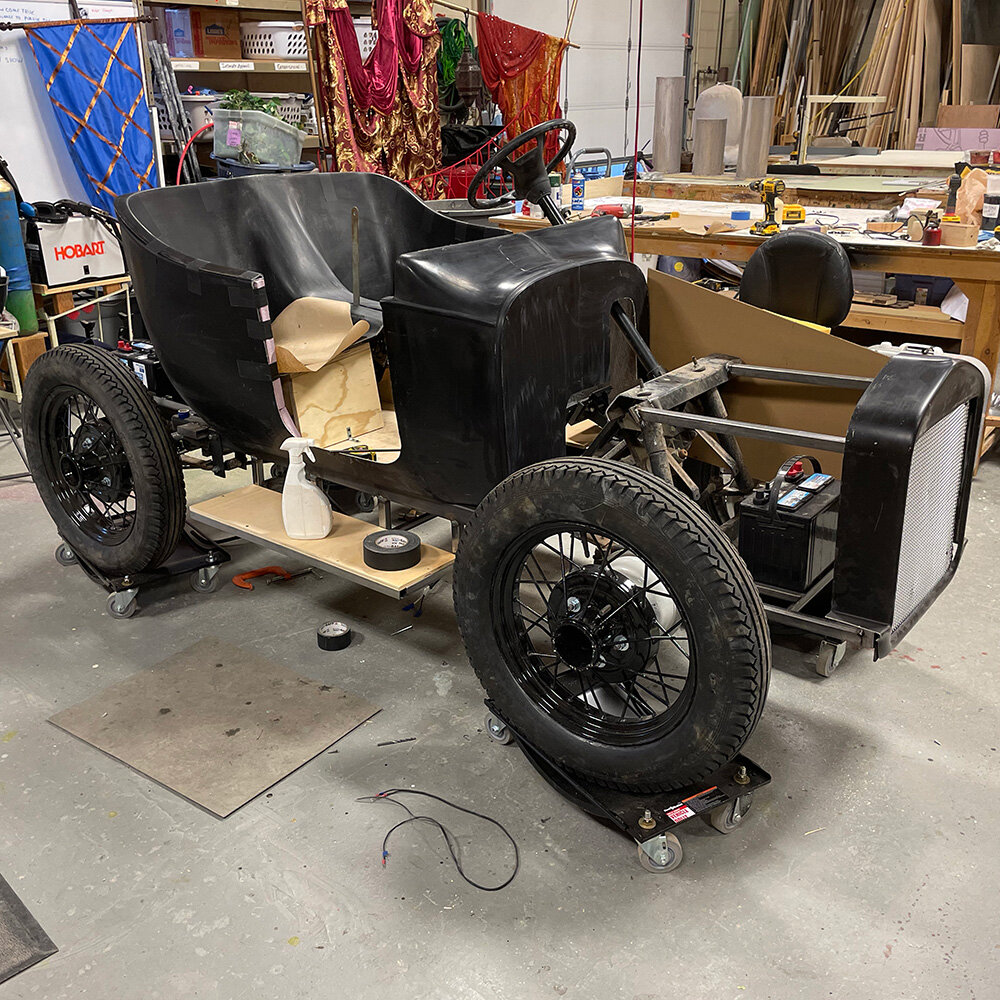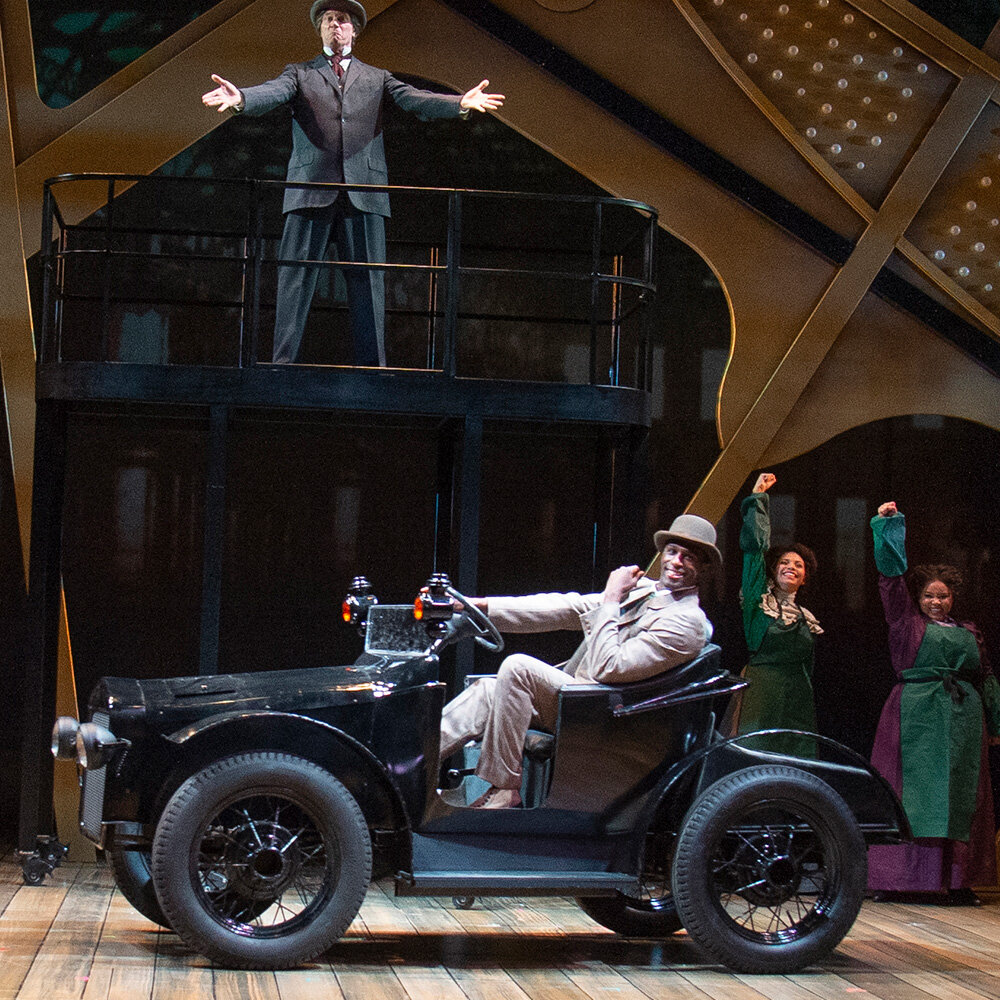 From an old golf cart (top), through the various stages of building, to a finished prop Model T Ford in the Utah Shakespeare Festival production of Ragtime, with Ezekiel Andrew as Coalhouse Porter Jr.
By Liz Armstrong
Properties Director Benjamin Hohman has been at the Utah Shakespeare Festival for 28 years, but creating a Model T Ford automobile for Ragtime this season has turned out to be his biggest props project yet—and it all started with a broken-down golf cart.
The process to create the Model T started with hours of research beginning in February, and actual construction beginning in late April. "It probably took us a total of 800 to 1,000 hours, with around 14 people working on it at different times," Hohman said. 
"Besides the large puppets of the man-eating plant in The Little Shop of Horrors, this was one of the biggest projects we've ever done," said Hohman. "There was a huge learning curve."
This learning curve was a surprising challenge for the props director, especially since he's had that position since 2000 and worked at the Festival for seven years prior to that. He's built props and done set dressing for over 160 shows at the Festival and had seen it all—almost.
"I've never built a car. Because it's on stage it had to be battery powered, and I had several friends I had to ask for guidance," Hohman said. 
So why build this Model T automobile from a golf cart? Surely there was an easier way. 
After looking into renting a Model T from another theatre company, Hohman found an automobile that he could rent from Massachusetts. However, transporting the car across the country was going to quickly use up the props budget for the show.
"I thought, I can build one for less than $9,000," Hohman said. And the props director did just that. He began the project with an old golf cart the Festival already had in the shop, but he and his crew quickly ran into a huge problem.
"We quickly realized the golf cart didn't run. It took three to four weeks to diagnose the problem." Hohman said. "It was at this point we realized we had about a 50 percent chance that the stage crew members were just going to have to push the car on stage." This option was actually acceptable to Director Brian Vaughn, if necessary—but not to Hohman. His team kept working.
When asked why they just didn't give up and allow stage crew to just push the car onstage, it was clear that he wanted to tackle the challenge of having a Model T that was actually able to drive onstage because he believed it would add to the overall impact of the play.
"The director was prepared to have it not drive. But the car is a big deal to Coalhouse as he rises up out of poverty to buy his own car," Hohman said. "Pushing the car just wouldn't have told the story as well."
The props team's original thought was to use components from the golf cart, including the motor, batteries, steering, and part of the frame; but they realized that the cart was about as wide as they could go to fit in the space allowed onstage, but it was not long enough to fit the reproduction Model T body panels they had purchased. The solution: essentially cut the golf cart in half, extend the length, and weld it back together. 
"We eventually got it running and drove it a few feet right there in the shop," Hohman said. For him and his team, this was a huge accomplishment. 
Now, they "simply" needed to add the replica body to the frame, as well as rims, tires, and other accoutrements. The rims on the car are from a genuine 1930s Model A and the tires are reproduction tires. 
"There's upholstery that makes it look like the car is convertible, and there's lanterns on either side of the windshield," Hohman said. "From the audience, it looks like a real Model T, but it's totally a props project."
Ezekiel Andrews, who is playing the role of Coalhouse Walker Jr. this season, has played the same character for different theatres several times before but has never had a car that he could actually drive. 
Hohman made sure to mention that it was a team effort, and that the props team has never had a project like this before—where everyone had to pitch in. Hohman and his team worked through the nights, weekends, and early mornings, making sure to get every detail right. 
"We have an older artisan that is a retired material scientist, and he wasn't going to come out this season, and then he heard about the car," Hohman said. "He was a great help."
Despite all of the challenges, Hohman and his team pulled it off, and the Model T Ford they built for Ragtime is something you won't want to miss. 
"The fact that we built all the props for seven other shows and created a car that drives in the amount of time that we did is amazing," Hohman concluded.
In addition to Ragtime, the 2021 season includes The Comedy of Errors, Pericles, Richard III, The Pirates of Penzance, Intimate Apparel, Cymbeline, and The Comedy of Terrors. Tickets for the season are now on sale: visit the Festival website at bard.org, call 800-PLAYTIX, or visit the Ticket Office at the Beverley Center for the Arts.