Nathan Detroits through Time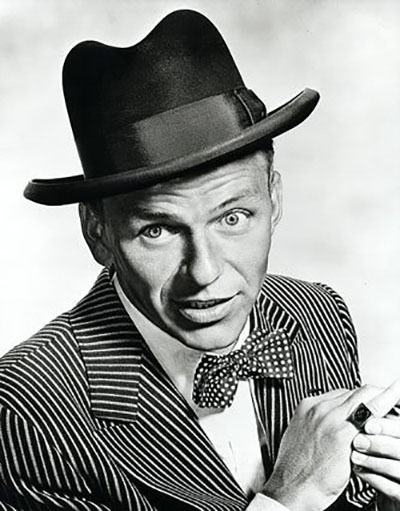 By Allison Borzoni
Frank Sinatra as Nathan Detroit
Guys and Dolls has been popular ever since it premiered on November 24, 1950. It has won dozens of awards throughout its runs and revivals, and, through time, there have been many faces for Nathan Detroit. From Bob Hoskins to Patrick Swayze, famously talented men have taken on the role in their own way. Here are just a few through the decades:
Sam Levene (1950): The man who first took on the role of Nathan Detroit was an American Broadway and film actor. He was prolific on Broadway, appearing in 37 shows over 50 years—a majority of which were original Broadway productions. Nathan Detroit's solo of "Sue Me" was written in one octave because of Levene's limited vocal range. A hit from the very beginning, the first production of Guys and Dolls ran for 1,200 performances and it won five Tony Awards along the way. If you're wishing that you could have been there, just buy the original cast recording—it was transferred onto CD in the 1980s.
Frank Sinatra (1955): Ol' Blue Eyes sold more than 150 million records worldwide and won eleven Grammy Awards and an Academy Award for From Here to Eternity. He produced his own record label and acted in movies, as well as musicals. Finally, he beat out Sam Levene for the role of Nathan Detroit in the 1955 film version of Guys and Dolls. Frank Loesser wrote three new songs for the movie version, and "Adelaide" was written specifically for Sinatra. The movie made over $5 million and has a 90 percent rating on Rotten Tomatoes.
Robert Guillaume (1976): Guillaume toured the world as a cast member of the Broadway musical Free and Easy. He soloed on The Tonight Show and was a member of the Robert De Cormier Singers. He was also nominated for a Tony Award for his role as Nathan Detroit. Guillaume was a part of the all-black cast for the first Broadway revival of the show in 1976. Guillaume and Ernestine Jackson were nominated for Tony and Drama Desk Awards while Ken Page won a Theatre World Award for his performance. The show closed after 239 performances and 12 previews.
Nathan Lane (1992): Lane has covered all of the bases as an American stage, film, and television actor and writer. You may recognize him as the voice of Timon from The Lion King or from his roles on Modern Family. He had the role of Nathan Detroit for the most successful revival of Guys and Dolls since the premiere. The show ran for 1,143 performances and received eight Tony Award nominations. The show won four of those nominations, including Best Revival, as well as a Drama Desk Award for Outstanding Revival. This run featured several revisions, including new music and redesigned orchestrations.
Henry Goodman (1996): He's been in movies as well as theatre, such as Doctor List from Avengers: Age of Ultron. He has won the Olivier Theatre Award for Best Actor three times, as well as a London Critics Circle Theatre Award. He brought his talents to the role of Nathan Detroit for a revival of Guys and Dolls in Great Britain. This rendition of Guys and Dolls received three Olivier nominations and won Best Supporting Performance in a Musical. The Critics Circle Theatre awarded the revival Best Direction and Best Musical.
In the summer of 2017,  the Utah Shakespeare Festival will introduce a new Nathan Detroit, who will continue the oldest established permanent floating craps game in New York, in Cedar City, Utah. Buckle your seats for Havana and back, ladies and gentleman—we're bringing Guys and Dolls to Cedar City this summer.