Nine Directors Imagine the Festival's 55th Season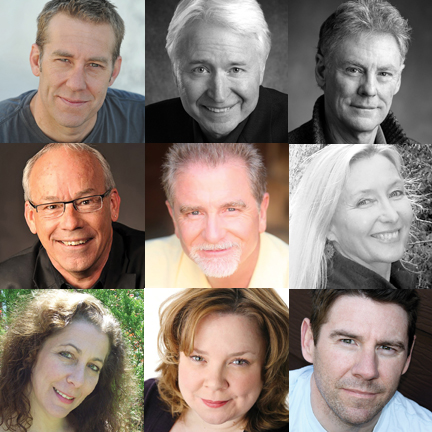 An imaginative and exciting 2016 season is rapidly moving from ideas to fully-realized theatrical events at the Utah Shakespeare Festival, as nine highly-talented and experienced directors are hard at work on visions of their individual plays.
This year's season, of course, has an added element of excitement as the Festival moves to the new Beverley Taylor Sorenson Center for the Arts, which includes new Greenshow, seminar, and public space, as well as two completely new theatres. "Being a creative part of this extraordinary season is an honor and a privilege," said one of the directors, B. J. Jones. "The opening of a new theatre is a once in a lifetime opportunity. . . . What a blessed moment we have before us."
Melissa Rain Anderson is directing the hilarious Marx Brothers play, The Cocoanuts in the Randall L. Jones Theatre. This is her first time directing at the Festival, but she has extensive experience at other venues, including Geva Theatre Center, Stages Repertory Theatre, Great River Shakespeare Festival, Arkansas Repertory Theatre, PCPA Theatrefest, and the off-Broadway Yellow Line Theatricals. She has also appeared as an actor in the television shows Law and Order: SVU and Lipstick Jungle. In describing the slapstick comedy The Cocoanuts, she used such words as buoyancy and agility and asked "What happens when you allow four 'nine-year-old' boys run amuck in a hotel in Florida? Pandemonium ensues!"
Karen Azenberg is also new to the Festival, but is well-known to many Utah theatre-goers as the artistic director of Pioneer Theatre Company in Salt Lake City. This summer she will travel south to Cedar City to direct the popular family musical ***Mary Poppins,***also in the Randall L. Jones Theatre. She has extensive experience as a director and choreographer off-Broadway, including work at the Village Gate, 92nd Street Y, New York Music Festival, and Roundabout Theatre. She has also worked at the Alabama Shakespeare Festival, Geva Theatre, Indiana Repertory Theatre, Goodspeed, Ford's Theatre, and many others. "I can't say how pleased I am to be collaborating with my fellow Utah artistic directors Brian Vaughn and David Ivers," she said. "Mary Poppins is a delight for the eye and the heart and a terrific show for adults and children alike."
Brad Carroll, who has directed extensively at the Festival, is returning this year to helm one of two shows opening the new Eileen and Allen Anes Studio Theatre, the musical comedy Murder for Two. Past work at the Festival has included Lend Me a Tenor: The Musical, South Pacific, The Comedy of Errors, Anything Goes, Les Misérables, Johnny Guitar, Spitfire Grill, H.M.S. Pinafore, Camelot, 1776, and Man of La Mancha. He has also directed at PCPA, Idaho Shakespeare Festival, Great Lakes Theater Festival, Shakespeare Festival of St. Louis, Utah Festival Opera, Anchorage Opera, Phoenix Theatre, University of California Santa Barbara, and the University of Nevada Las Vegas. He also co-wrote and directed Lend Me a Tenor: the Musical, which premiered at the Festival and also appeared at the Theatre Royal, Plymouth, Gielgud Theater in London.
Joseph Hanreddy is returning to the Festival to direct Julius Caesar, Shakespeare's play of power and politics which will be presented in this year of a presidential election in the new Eileen and Allen Anes Studio Theatre. He was the co-adaptor and director of Pride and Prejudice and Sense and Sensibility which both appeared at the Festival, as well as director of Private Lives and Macbeth. Other theatres he has directed at include Milwaukee Repertory Theater, Madison Repertory Theater, Ensemble Theater Company, People's Light and Theater Company, Idaho Shakespeare Festival, Great Lakes Theater, Door Shakespeare Festival, Writer's Theatre, Resident Ensemble Players at the University of Delaware, and Connecticut Repertory Theater.
David Ivers, one of the Festival's artistic directors, is taking the helm this year of Shakespeare's Much Ado about Nothing in the new Engelstad Shakespeare Theatre. He has appeared in over forty-five Festival productions over nineteen seasons and has directed Cyrano de Bergerac, The Complete Works of William Shakespeare (abridged), Romeo and Juliet, Twelve Angry Men, Twelfth Night, and Charley's Aunt. He has also directed across the country, including The Cocoanuts at the Guthrie Theatre, the west coast premiere of One Man, Two Guvnors at Berkeley Rep, the Oregon Shakespeare Festival and ten seasons with the resident company at Denver Center Theatre Company. "This is the definitive romantic comedy," he said, speaking of Much Ado about Nothing. "It has some of Shakespeare's most endearing and beloved characters in a sweeping play that is certain to touch your heart and your funny bone."
B. J. Jones will once again be at the Festival, this year directing The Three Musketeers in the new Engelstad Shakespeare Theatre. Previously at the Festival, he has directed The Tempest, Much Ado about Nothing, and Twelfth Night. He is currently the artistic director of Northlight Theatre in Chicago, where he has served for eighteen years and commissioned and directed the world premieres of Charm, White Guy on the Bus, Chapatti, Stella and Lou, The Outgoing Tide, Better Late, and Rounding Third. He has also worked off-Broadway at Cherry Lane Theatre and at Next Theatre, Galway Arts Festival, Baltimore Center Stage, Steppenwolf, Intiman, Body Politic, Alliance Theatre, and Asolo Theatre.
Christine Kellogg is also returning to the Festival, this year as the director of The Greenshow. In past years she as been the assistant director and choreographer for South Pacific, Into the Woods, The Taming of the Shrew, Les Misérables, Scapin, and The Merry Wives of Windsor. On Broadway she has worked on Blame It on the Movies and American Dance Machine. Other theatres she has worked at include the Ahmanson Theatre, Kirk Douglas Theatre, South Coast Repertory Theatre, and more. Television credits include Hill Street Blues, Dynasty, Capitol, Who's the Boss, The Garry Shandling Show, and The Tracey Ullman Show. "I am thrilled to be carrying on The Greenshow tradition in a new space," she said. "I learned a lot working with Fred Adams and Joshua Stavros in the past years and I'm hoping to bring some of that knowledge and excitement to this year's shows."
J. R. Sullivan, who has long been associated with the Festival, is this year directing The Odd Couplein the Randall L. Jones Theatre, featuring Festival Artistic Directors David Ivers and Brian Vaughn in the roles of Felix and Oscar.He worked at the Festival from 2002 to 2009 as associate artistic director and has directed productions of Amadeus, Richard III, Hamlet, Stones in His Pockets, and The Glass Menagerie, among others. He also adapted two Jane Austen shows which appeared at the Festival: Pride and Prejudice and the world premiere of Sense and Sensibility. Off-Broadway, he is the former artistic director of Pearl Theatre Company where he directed several shows, including the New York premiere of Wittenberg. He has also worked at New American Theatre, Oregon Shakespeare Festival, Milwaukee Repertory Theatre, Theatre X, Philadelphia's Arden Theatre, Studio Theatre in Washington, D. C., Delaware Theatre Company, and Resident Ensemble Players at the University of Delaware.
Brian Vaughn, Festival artistic director, is directing the final installment of the history of Prince Hal/King Henry in this year's production of Henry V, which will open the new Engelstad Theatre. Acting roles at he Festival over twenty years include Hamlet, Henry V, Leontes, Benedick, Prince Hal, Hotspur, Posthumus, Launce, Dromio, Costard, Javert, Harold Hill, The Baker, King Arthur, Pirate King, Rutledge, Hysterium, Smudge, Cyrano de Bergerac, Dr. Watson, Richard Hannay, Charlie, Victor Flemming, and others. Directing credits include Henry IV Part Two, Henry IV Part One, Peter and the Starcatcher, Dial M for Murder, and Greater Tuna. He has also worked in the resident company at Milwaukee Repertory Theatre and at Arizona Theatre Company, Chicago Shakespeare Theatre, Milwaukee Chamber Theatre, Nevada Conservatory Theatre, Northlight Theatre, PCPA Theatrefest, and others.          
Tickets are now on sale for the Festival's 55th season, which will run from June 27 to October 22. For more information and tickets visit www.bard.org or call 1-800-PLAYTIX.