Our Favorite Festive Songs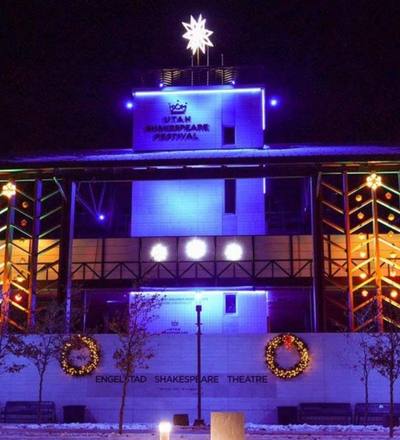 Happy Holidays! We at the Festival plus some of our seasonal company members from 2022  compiled a list of our favorite festive songs to share some holiday spirit with you. Please comment your favorite holiday song on our Favorite Festive Songs post on Facebook or Instagram @utahshakespeare to join in on the fun!
Visit our Spotify playlist at:
https://open.spotify.com/playlist/0ZeK8JLUcLgdU3L5TBOvnc?si=17ef680da85d495f
RESIDENT STAFF
Derek Charles Livingston – Interim Artistic Director & Director of New Play Development
"The Christmas Song" performed by Nat King Cole
"It was a favorite of many family members,  especially my great-grandmother's," Livingston said. "I recall a host of us being at what was the house she shared with her son, my Uncle Frank, and him singing it in her honor."
Troy Adams – Facilities 
"Grandma Got Run Over by a Reindeer" and "O Holy Night"
Liz Armstrong – Communications Assistant and Writer 
"Do You Hear What I Hear" by Martina McBride and "Mary, Did You Know" by Pentatonix 
"I grew up listening to Martina McBride's holiday album, and so it elicits a feeling of nostalgia for me listening to it year after year," Armstrong said. 
Astrid Bacy – Marketing Assistant
"Opera of the Bells" by Destiny's Child
"It was my first caroling experience when I was 6. It was so magical," Bacy said. "We all stood outside on my uncle's porch in one of the rare years it snowed in Dallas, Texas. It was cold but the carolers' voices were ethereal. It is what made me want to sing."
Marielle Boneau – Assistant Properties Director
"We Need a Little Christmas"
"It was on a compilation Firestone Singers-type of record we would listen to when I was young.  I had no idea it was from Mame until I was out of college," Boneau said. 
Kami Paul – General Manager
"I Heard the Bells on Christmas Day"
"It reminds me to find hope," Paul said. 
Aubree Rasmussen - Guest Services Manager
"Home for Christmas" by NSYNC (the album)
"Growing up, I got the NSYNC Christmas album as an early holiday present from my mom. We used to turn it on and listen to it while we played Nintendo games when all of us kids (there are six of us) were out of school during winter break," Rasmussen said. 
ACTING COMPANY 
John Bixler – Duke of Albany in King Lear and Sebastian/Ceres in The Tempest
"How to Make Gravy" by Paul Kelly
"I love this song because it focuses on our traditional and chosen family and the small traditions that bind us," Bixler said. 
Anastasha Blakely – E. Dumaine in All's Well That Ends Well and Stephano in The Tempest 
"Merry Christmas, Happy Holidays" by NSYNC
"This was the first tape I owned and listened to on repeat on the way to my grandma's house," Blakely said. 
Aaron Galligan-Stierle – Wadsworth in Clue and Pirelli in Sweeney Todd
"River" by Joni Mitchell
"I love the peaceful imagery and feeling it evokes," Galligan-Stierle said.
Shannon Galligan-Stierle – Frau Schmidt in The Sound of Music 
"In the Bleak Midwinter" by Shawn Colvin
"It gives me old-timey fireside vibes and her voice reminds me of my youth with so many wonderful memories accompanied by her music," Galligan-Stierle said. 
Antonio TJ Johnson – Sheldon Forrester in Trouble in Mind
"The Christmas Song" by Nat King Cole 
"It's my mother's favorite song and quite frankly the only thing I like about Christmas," Johnson said.
Luke Sidney Johnson – Baron Elberfeld in The Sound of Music, Ensemble in Sweeney Todd, King of France/Captain/Ensemble in King Lear 
"The Christmas Song"
"It's a classic which encapsulates the feeling of Christmas for me," Johnson said. 
Aidan O'Reilly – Caliban in The Tempest and The Fool in King Lear
"White Christmas" by The Drifters
"It reminds me of being a kid during the holidays which was always a magical time," O'Reilly said. "It still is when I get to see my nieces experiencing it too."
Jacob Sorling – Swing for The Tempest 
"Christmas in L.A." by The Killers feat. Dawes
"This song truly touches on the loneliness of moving to L.A. as an artist and not being able to easily go home for Christmas," Sorling said. "The song is so cathartic."
Jeremy Thompson – G. Dumaine in All's Well That Ends Well, Burgundy/Herald in King Lear, and Fenton in Trouble in Mind 
"Christmas in the Trenches" by John McCutcheon
"I learned about the World War I Christmas truce through the song 'Snoopy's Christmas' by the Royal Guardsmen. 'Christmas in the Trenches' tells the same story from a more grown up perspective and my parents recorded it from a radio show onto a cassette tape where it became the first track on our family Christmas mix," Thompson said. "It still moves me to tears."
SEASONAL STAFF 
Bryce Barnhill – Wardrobe Assistant
"Here Comes Santa Claus" by Gene Autry
"I grew up [listening to] it when I helped my family with decorating the tree and we'd pull out the radio and play some Christmas music CDs. It was always good and fun," Barnhill said. 
Camillia Klausmeier – Ticket Office Staff
"O Come All Ye Faithful" by Scott D. Davis
"This song hits a balance of the whimsy of Christmas, the classic traditions, and just good music," Klausmeier said.
Savannah LeNoble – House Manager
"I Want a Hippopotamus for Christmas"
"It's my favorite song because I have been listening to it since I was a baby," LeNoble said. "I remember singing it with my mom and dad a lot."
Emilio Medina – House Manager 
"Last Christmas" by Wham
"It's just a bop," Medina said. 
Sarah McCarroll – Costume Shop Manager/Englestad Wardrobe Supervisor
"We Need a Little Christmas" by Angela Lansbury
"Angela Lansbury - what more could you ask for?" McCarroll said. 
Rebecca Villalobos – Hair and Make-up Fellow
"Feliz Navidad"
"It is such a simple, fun song to listen to and dance to!" Villalobos said. "Being half Mexican, it's also a song that just reminds me of my family. That song always plays on Christmas Eve in our house."