Paiute Tribal Youth Return to Perform at The Greenshow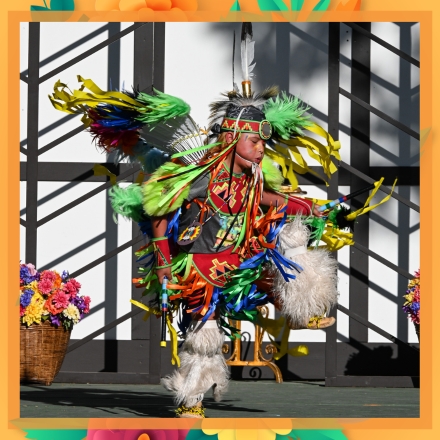 In 2021 and 2022, the Paiute Tribal Youth Performers from the Paiute Indian Tribe of Utah took the stage before The Greenshow each evening. The performances consisted of dancing, flute playing, and drumming by the talented local youth.
This year, the Festival is excited to announce that the Paiute Tribal Youth Performers will have the entirety of a Greenshow to share their talent. Their show will be one of three themed shows that will rotate throughout the week––in addition to Director Britannia Howe's English Regency Garden Party and The Hills of Appalachia.
Native Youth Coordinator Roger Clark explained that different youth performers will rotate through the summer's performances and that there will be drumming, singing, dancing, and flute playing. 
This is the first time ever that another organization outside of the Festival has produced an entire Greenshow, and Clark is excited about the opportunity. 
"It will give us the opportunity to better build awareness of the indigenous people of this area, with the focus on the Paiute Indian Tribe," Clark said. "We are excited to share our youth's talents." 
Our Festival patrons can expect to be immersed in a deeply rich and historical culture. 
"The Native American culture has been around for thousands of years, while Shakespeare was born only in 1564," Clark said. "It'll be different from what [patrons] will see in the theatre." 
From Clark's perspective, Shakespeare is quite modern in comparison to what the Paiute Tribal Youth Performers are sharing. Because of this, the performance will provide patrons with the opportunity to enjoy an ancient and long-standing tradition in addition to the more modern productions the Festival has prepared this season. 
"It will be good for [patrons] to know and understand the beauty of the Native American culture," Clark said. The Festival acknowledges the land whereon it sits is the traditional and ancestral homelands of the Nung'wu (Southern Paiutes).
Clark noted that there will be audience participation, so those seeing the show will have the opportunity to participate while learning about the Paiute culture. 
For more information on The Greenshow, visit bard.org. The Paiute Heritage and Celebration Greenshow will be on Wednesday evenings at 7:10 pm beginning June 21 and is free and open to the public.