Festival Announces Passing of Beloved Staff Member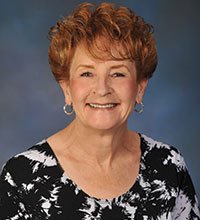 With deep sadness, the Utah Shakespeare Festival shares the news that Pamela Redington passed away February 5. Pam worked at the Festival for over twenty-five years, holding positions as correspondence secretary, administrative assistant, and executive assistant, retiring in 2013. She had many friends among the Festival staff, artists, volunteers, patrons, and board members. 
"Pam contributed so much over her many years at the Festival and was a beloved member of the staff who will be missed," said Frank Mack, executive producer.
"Pam was a stalwart of the Utah Shakespeare Festival. She was for many people the face of the organization," added Brian Vaughn, artistic director. "Combined with her incredible intelligence and passion, Pam's spirit is woven into the fabric of the Festival. My heart goes out to her family. She will be greatly missed."
Pam was born to Blaine and Wanda Anderson Wood on December 6, 1943, in Cedar City, Utah. She was raised in Cedar City where she spent her childhood learning and honing her many skills and talents as a seamstress, pianist, and typist, among many other things that she learned from her mother. She attended East Elementary, Cedar Junior High School, and Cedar High School, graduating in May 1962. She had three children: Kirk Allen Orton, Kevin W Orton, and Camille Woolsey.
Pam married Boyd D Redington on January 23, 1988, and they were sealed in the St. George, Utah, LDS temple on May 28, 1993. She was a lifelong member of the Church of Jesus Christ of Latter-Day Saints.
Read her entire obituary here.
Funeral services will be Thursday, February 10 at 11 a.m. at Southern Utah Mortuary. Viewings will be February 9 from 6 to 8 p.m. and February 10 from 9:30 to 10:30 a.m. at the mortuary. Interment will be in the Cedar City Cemetery.