People in Our Neighborhood: Cedar High Counselor Jennifer Denhalter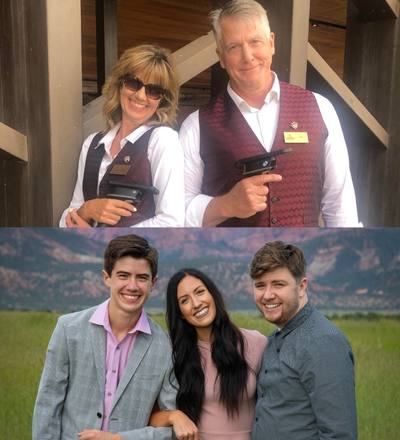 By Liz Armstrong
Jennifer Hunter Denhalter grew up in Cedar City down the street from the Festival and has been a counselor at Cedar High School for 24 years. She also has an immense love for Shakespeare. 
Denhalter's thread of connections to the Festival weave an intricate and heartwarming tapestry. Her mother was a ticket office manager at the Festival growing up, and her parents were dear friends of the late Festival founder Fred C. Adams and his wife Barbara. She went to plays as a child, and became a tart-seller at the Greenshow in high school. 
Now, Denhalter volunteers as an usher in the summer with her husband and attends plays every season. 
"I think the Festival is such an important part of our community," Denhalter said. "As someone that has spent most of my life here, isn't it cool that we have this platform that brings in so many people to see our town?"
She's passed a love of theatre down to her children, with all three children having been involved in the Festival at one point or another. Her daughter was in Playmakers at age 10, working with Interim Managing Director Michael Bahr. Although Lauren is more athlete than actress, she continues to attend countless theatre productions.
Her son Nick is a student at Southern Utah University studying theatre, and was in King Lear and The Sound of Music appearing courtesy of the SUU Fellowship Program. He got his start at the Festival when he was a child, cast in A Midsummer Night's Dream as an imp when Adams directed it in 2011. In 2012, he was Jem in To Kill a Mockingbird. 
Noah, her youngest son, worked at the ticket office this season. He has been heavily influenced by the Festival, as he also started theatre as a child in Playmakers with Bahr. In 2016, Noah and Nick were cast together in the Cedar High School production of Les Miserables. 
Although he isn't from Cedar City, her husband Matt has his own ties to the Festival. In addition to ushering every season to give back to the community, he is the grandson of Carol Adams Wright who is related to the Adams family. In the 70's, his uncle was an actor and spent a summer employed at the Festival. 
For Denhalter herself, she has attended around 50 seasons of the Festival. Her favorite plays are Henry IV Parts One and Two and Henry V. This season, she especially enjoyed Sweeney Todd and King Lear.
What she loves most about Shakespeare and theatre is the storytelling. 
"I think people get so focused on the language that they don't listen to the stories. And I think the stories of Shakespeare are so wonderful," Denhalter said. "For example, Henry V encompasses his love for his soldiers, God, romance, overcoming disadvantages in battle. So many modern day movies have been made from Shakespeare plays because his stories are so good."
Denhalter encourages those who are nervous about attending Shakespeare plays out of fear of not understanding to just go. 
"I think the Shakespeare Festival makes the language so easy to understand," Denhalter noted. "There've been so many people I've given tickets to that have never seen a Shakespeare play and have said 'Oh that was easier to understand than I thought.' I encourage people to also go to the seminars before the plays."
Denhalter expressed that the Utah Shakespeare Festival is an important part of her and her family's life, and they will continue to be lovers of theatre for years to come.