People in Our Neighborhood: Farmer's Market Owner Heather Carter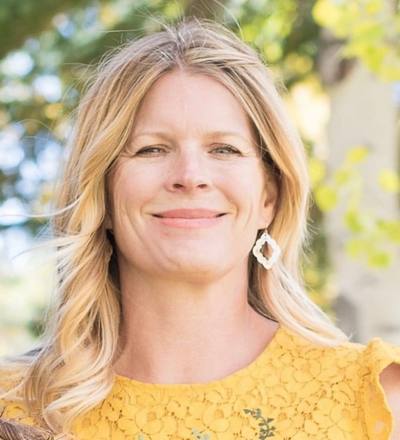 By Liz Armstrong
Heather Carter has been running the Festival City Farmer's Market and Nature Hills Farm full time for 12 years.
The business owner moved from Nevada to attend Southern Utah University when she was 18 years old and has lived in Cedar City ever since. Carter graduated from SUU with a Master's of Education.
The business owner met her husband, Travis, at school, and the couple now have four kids, ranging in age from 12-20 years old.
Carter and her family attend plays at the Festival almost every season. Some of Carter's favorites include The Taming of the Shrew and Mary Poppins, while her daughter enjoyed last season's The Pirates of Penzance.
In addition to enjoying the Festival personally, Carter appreciates the positive impact the Festival has on her business.
"Because we are a year-round farmer's market, we definitely notice a difference when the Festival starts and ends. We plan our busy season around Festival season," Carter said.
With actor housing right across the street from the farmer's market, Carter has noticed a lot of actors and Festival staff that attend from June to early October.
"We have a lot of actors come to support the farmers market, and that's always so fun," Carter said. "We get to know them there, and then we get to watch them in the plays."
Carter stays busy between running the farmer's market and her farm. She grows produce to sell and makes breads and jams.
Nature Hills Farm is located at 4326 2100 E Circle in Enoch. On October 1, 5, 8, 10, and 15, the Harvest Fest is open, where visitors can enjoy hay rides, feed animals, walk through the sunflower maze, pick out a pumpkin from the patch, drink apple cider and pumpkin hot chocolate, and much more!
From October 1-31, the Pumpkin Patch and self-guided tours will be available. Tickets for these fall festivities range in price from $4-$11.
During the winter, Carter hosts cheese and sourdough making classes. There is also Christmas on the Farm and a live nativity. For more information on Nature Hills Farm, visit their website at naturehillsfarm.com or follow Nature Hills Farm on Instagram and Facebook.
For a fun-filled weekend, visit the farmer's market from 9-1 pm on Saturdays on 45 W Center Street in Cedar City and then attend a play! The Festival's season includes Clue, The Tempest, The Sound of Music, and Thurgood and closes Oct. 8. Purchase tickets at bard.org/plays.