Play's Journey to Culminate with World Premiere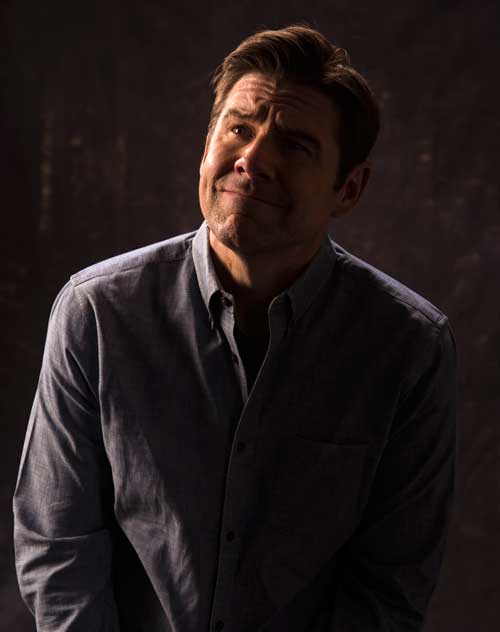 Brian Vaughn as Brad.
Fans of the Utah Shakespeare Festival have had an amazing opportunity the last year or more to see the creation of a new play. It has been an experience that will culminate in August with the opening of the world premiere of nationally-recognized playwright Neil LaBute's How to Fight Loneliness.
"It has been an exciting journey," said Artistic Director Brian Vaughn, who is also playing the role of Brad, one of only three characters in the new play. "It began almost two years ago, and, now, as we prepare to start rehearsing the play we can hardly wait."
The script for How to Fight Loneliness was originally brought to the attention of Vaughn and former Co-Artistic Director David Ivers in late 2015 by Charles Metten, at that time the director of the Festival's New American Playwrights Project, now rejuvenated as Words Cubed. Metten was LaBute's former teacher at Brigham Young University and long-time mentor and friend; and he felt the script would be a good fit for an August 2016 reading as part of Words Cubed.
LaBute is very well known to those who follow the theatre world. He recently had two successful shows close off-Broadway and has another, All the Ways to Say I Love You, now playing at MCC Theater. One of LaBute's first well-known plays was In the Company of Men, which he later adapted into a movie starring Aaron Eckhart. He has since written numerous plays, including reasons to be pretty, which appeared on Broadway and was nominated in 2009 for three Tony Awards. In 2013, LaBute was recognized with the Arts and Letters Awards in Literature by the American Academy of Arts and Letters.
"David and I read LaBute's How to Fight Loneliness, and we both said we need to do this play," said Vaughn. "We liked the way the play unraveled over its course, as well as its overall message—especially the very real examination of a couple at a crossroads in their relationship and the difficult decisions they have to make during a crisis. David and I both knew right away that we would end up producing it, and that was confirmed when we did the staged reading."
Thus, the play was workshopped as part of the initial season of Words Cubed, with Ivers directing and Tessa Auberjonois, Corey Jones, and Vaughn reading the roles of the three characters.
This workshop process is very common in the theatre world. "It gives the playwright the opportunity to fine tune their piece of art, to notice things that may not ring quite right to the ear," said Vaughn. "LaBute's language is so powerful and natural, with speakers interrupting each other and dialogue overlapping. The rhythm and punctuation are so important, which the workshop helps refine."
"The audience reaction was positive," said Vaughn, "and we knew our decision to produce it in 2017 was correct."
Since then, LaBute has been working on the play even further, tweaking and making changes. It will be the same play that was workshopped in 2016, but it is even stronger now, the language is even more muscular and exact.
Also, Ivers has been working with his team of designers to flesh out the world where the actors will present the play. In the workshop, the actors primarily read their lines with very little movement and no lights, sound, costumes, or scenery. Now, it is up to this creative team to make it all come alive.
Next, the same four artists who presented the 2016 reading are returning July 31 to begin rehearsing for a full production of How to Fight Loneliness, previewing on August 25 and opening on August 26 in the Eileen and Allen Anes Studio Theatre.
"We will be getting the play on its feet," said Vaughn, "learning the lines, aligning the motivations and emotions to finally present a moving, important play that has meaning and impact for our audiences."
The Festival is known more for doing classical theatre, Shakespeare and other plays much of the audience is familiar with, than new plays. "This is probably the most modern play we have ever done at the Festival," he continued. "It will give our audiences a chance to come to the play with an open mind and no pre-conceptions. There's something wonderful about coming to see something that you've never seen before."
That's not to say that the play doesn't fit in well with the rest of the Festival season. It has many connections thematically and artistically—to Romeo and Juliet, for instance. When Shakespeare wrote his plays, he was writing for what was a modern audience then, no different than a playwright working today. Shakespeare could be controversial in his day, he wrote about difficult subjects, and he made his audiences laugh and cry and experience the spectrum of human emotions.
The story of How to Fight Loneliness tells of a young woman, Jodie, who is struggling with a terminal illness and is faced with decisions regarding life and death. During the show, Ivers wants the audience to experience every moment of tension, comedy, and realistic language LaBute is known for. He emphasized that the play is a character study that revolves around the people in the play and their relationship, not issues surrounding the plot. "Like Shakespeare," he said, "LaBute's characters experience a situation where everything is on the line.
"How to Fight Loneliness is a very relevant play for our day," concluded Vaughn. "LaBute's plays can be controversial because he really grapples with the underbelly of human existence, and he has an acute sense of dialogue and modern-day speech and sensibilities."
Ultimately, all the readings, the designing, the rehearsals will come together on August 25. Then, audiences at LaBute's play will be much like the first audiences at Shakespeare's plays or Frank Loesser's plays or George M. Cohan's plays. It should be a thrilling experience; we hope to see you there.
How to Fight Loneliness deals with powerful adult themes and contains numerous incidences of explicit language. It is not appropriate for most teenagers or for others who find such content unpleasant.
Tickets are now on sale for the Festival's 56th season, which will run through October 21. Other plays in the season are William Shakespeare's Long Lost First Play (Abridged), As You Like It, Shakespeare in Love, Romeo and Juliet, Guys and Dolls, A Midsummer Night's Dream, Treasure Island, and The Tavern. For more information and tickets visit www.bard.org or call 1-800-PLAYTIX.
The Utah Shakespeare Festival is part of the Beverley Taylor Sorenson Center for the Arts at Southern Utah University, which also includes the Southern Utah Museum of Art (SUMA).