Projections Add to the Magic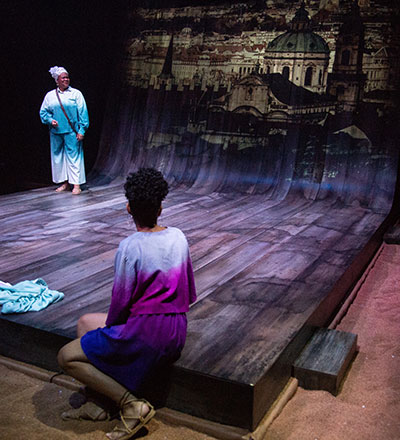 By Liz Armstrong
To add to the magic of Shakespeare's The Tempest, the Utah Shakespeare Festival has implemented a little extra to the set design this season, utilizing projections onstage to help illustrate Shakespeare's last and most imaginative romance. This is not the first time the Festival has used projections, but this production certainly uses them more than any other in the past.
Director Cameron Knight explained his decision to use projections in the play, noting that the addition helps create the magic and add clarity to the storytelling. "We use them as an additional character to aid in the audience's experience and understanding of the story," Knight said. 
One patron from Salt Lake City said that his experience of The Tempest did just that when paired with Prospero's monologue at the start of the show, helping to transition him into the story. 
Knight said that the use of projections, which were designed by Yee Eun Nam, also helped with cutting and shortening the script. By showing elements visually that would usually be spoken, the projections help keep audience members engaged and interested. Lightning storms, enchanted forests, mystical silhouettes, Ariel casting spells, and even Miranda and Ferdinand playing chess are all projected onstage while the actors continue to tell the story traditionally. 
"This play is so magical already," Knight said. "Using projections helped elevate that magical realm." 
In addition to deciding to use projections, Knight's other artistic decisions made this play into what it is: an escape from reality into a world of magic, fairies, and adventure. 
"The score and composition by Lindsey Jones, really leaning in to the '90s rock, grunge, and R&B created an amazing setting for the world," Knight said, "along with Jaymi Smith's amazing lighting, Yee Eun Nam's projections, and Raquel Adorno's beautiful costume design." The combination of technology, music, and acting layer on top of one another, resulting in a play experience that patrons have never before seen at the Festival.
To see The Tempest and to be immersed in an evening of pure magic, visit bard.org/plays or call 800-PLAYTIX to purchase tickets.