Props Team Brings Holiday Cheer to Cedar City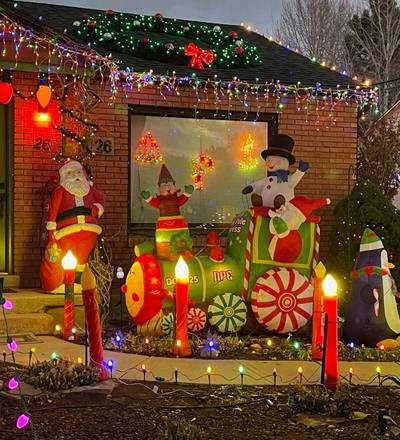 By Liz Armstrong
Husband and wife duo Ben Hohman and Marielle Boneau have gone all out once again with their holiday display, bringing lots of light – literally — to Cedar City and its community.
This is the 18th year that Properties Director Hohman and Assistant Properties Director Boneau have decked out their house at 26 N 1150 W. The display lights up every night from 5:30-10 pm and will run until December 31st.
Including over 65,000 lights and over 40 inflatable decorations that are choreographed to dance with 20 Christmas songs, visitors can walk through Candy Cane Lane, taking in the light display in both the front and back yard. 
The display has raised over $28,000 for Make-A-Wish since they started. In addition to taking donations, the couple also donates the value of their December power bill to the organization. 
And lots of power is needed! An electrician installed an extra 120 amps of electricity in the back of the house just for the Christmas lights, which is four times the amount used inside. It's safe to say that Hohman and Boneau love Christmas a whole "watt." 
The idea to collect donations came about almost a decade ago. Hohman helps with the annual Make-a-Wish Christmas party and is a trained Wish Granter, so his involvement with the organization goes back a long time.
"We help decorate for the Christmas party each year, and we decorate the house as a fundraiser for the organization," Hohman said. 
That first year, they were encouraged to become more involved with the organization after their friend Heather was impressed with their decorating, and so the couple started to collect donations at their light display
Boneau joked that because the display is for a good cause, it "legitimizes his Christmas craziness." Call it "crazy," we call it "passionate Christmas cheer!" Either way, the Utah Shakespeare Festival is proud that this Props team continues to go above and beyond with the display.
When asked why the couple continues to put in over 700 hours to put up and take down the display each year, Hohman and Boneau said they do it for the community. 
"The community has grown to love it," Hohman said. "It's become a tradition for a lot of families in town."
Boneau added that they truly enjoy doing it, and seeing the reaction of community members makes it all worth it. 
"We have a back patio area that we call 'Winter Disco Land,'" Hohman said. "And it's so fun to see the little kids go back there and dance." 
For those in the community that return each year, there are some exciting new additions. Their inflatable Mater, from the movie Cars, is now "selling," Christmas trees in their front yard. A large toy soldier brigade now stands guard out front too! 
"Marielle found a gingerbread house for our two gingerbread inflatables to live in Gingerbread Land," Hohman said. 
Boneau is also excited about the newest Snoopy additions, so keep an eye out! 
Come see the display, "lighten" up, and get in the Christmas spirit! We promise, it's sure to be merry and "bright." 
Donations can be made at the display or at their website. While on the site, check out video footage of the past 15 years of the display. Donations are also accepted directly on the Make-a-Wish website or Venmo @benslightdisplay.