Q&A with Director Geoffrey Kent on The Play That Goes Wrong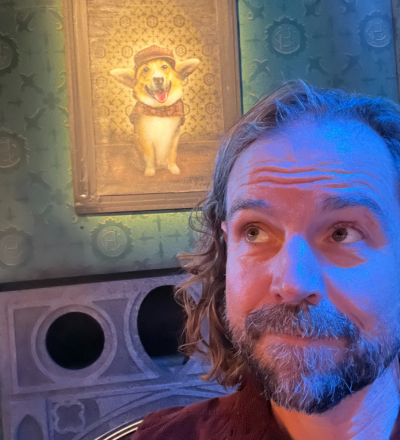 Geoffrey Kent directed this season's production of The Play That Goes Wrong. This is Kent's fourth season at the Utah Shakespeare Festival, with three seasons under his belt as an actor and fight director. 
Kent first appeared at the Festival in The Complete Works of William Shakespeare (Complete) (2009). He returned as Oliver in As You Like It (2017), Billy Bones in Treasure Island (2017), and the Prince of Arragon in The Merchant of Venice (2018). He has also worked at DCPA Broadway, Colorado Shakespeare Festival, and Arvada Center. Kent received a Henry Award for Excellence in Fight Direction. His teaching credits include University of Northern Colorado, University of Denver, and Asolo Conservatory. 
This is the first time The Play That Goes Wrong has ever been produced in a repertory theatre, which is a big deal. This means that the play alternates alongside other productions. This is a difficult task, as the play is extremely physically demanding on the set, actors, and staff involved. 
The Festival had the chance to visit with Kent about the exciting and challenging experience of directing such a difficult––and ridiculously fun––show. 
The Festival: The Play That Goes Wrong is such a comical and fun play. Why should our patrons see it? 
Kent: It's one of the funniest plays written in the last 10 years, and you never want to pass up an opportunity to see a great comedy. Quite frankly, great comedies are harder to find than great tragedies.
And, it requires no prior knowledge to understand it, you can just show up and have a good time. It's completely accessible and perfect for families. You can bring your kids and they'll laugh alongside you. 
The Festival: As playgoers, what should we watch for that would help us enjoy it even more? 
Kent: The tricks can kind of upstage the story, if the audience is waiting for the next thing to go wrong versus how the characters are surviving. It will be [most interesting] for the audience to watch how our actors as the characters in the play do their best to keep the story alive and running—when what they should probably be doing is stopping. 
The Festival: Are there any special "Easter eggs" you have implemented into the play as a director?
Kent: The portrait of the dog on the wall is of my dog that I lost in March to an accident. His name is Monty, and I sent a photo of him to our scenic designer Jason Lajka and he designed the portrait. It always brings a smile to my face when I see it. 
Later, when the dog character is missing, as written in the script, Max is supposed to come running out with an invisible dog on a leash, but our Costume Designer Lauren T. Roark and Actor Jim Poulos together came up with this idea of, "What if he takes this big raccoon coat that he wears and rips apart and uses that as a solution to the problem?" We created a lot of humor with that, that a lot of other productions don't have. 
The Festival: What do you hope audience members walk away with from this production?
Kent: I hope their sides hurt from laughing. I hope that they have faith in the theatrical process. The motto we've built theatre around is "the show must go on," and when it's all over [these characters] have made it to the end of the play. 
There's something to be said about watching this team overcome hundreds of obstacles and still manage to get to the last line of the play, and I hope that the audience members feel proud and satisfied that they did that. 
The Festival: What were the largests challenges of directing this play? 
Kent: Physical safety. In a show that is this physically demanding, we were constantly asking ourselves, "Can we do this 80 times?" It is the most technically complex show I have ever directed. Every single page required specific choreography for safety or comedy. 
The Festival: Why did you enjoy directing this show? 
Kent: It felt like a dare. What draws me to theatre are plays that feel like they're challenging you to stage it and try and pull this off. What excited me about this play was the challenge of creating a physical story this complicated that could be done safely all the way through October.
Also, I am drawn to laughter because it engenders empathy. Once someone makes you laugh, you care about them. [The actors] are all so funny, and so you care about them, and when everything goes wrong, you continue to care about them and go on that journey with them. 
The Festival: How long have you been directing? Why do you continue to direct? 
Kent: I've been directing for about 15 years. What drew me to directing was fight direction, because as a fight director, I had to interact with not just the actors and directors, but props, costumes, and more. Eventually that made me want a wider lens, because I was pushing at the boundaries as a fight director. I wanted to be the orchestrator of a complete story instead of simply part of one. 
To purchase tickets to The Play That Goes Wrong this season, visit bard.org or call 800-PLAYTIX. 
For more information on Kent, visit his website at geoffreykent.com or on Instagram @geoffreykent.