Q&A with Shakespeare in Love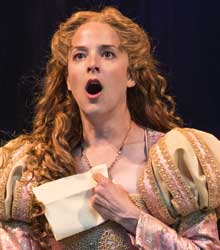 Betsy Mugavero as Viola de Lesseps.
Creating a stage play from a movie can be fraught with problems, most notably the inclination most of us have of comparing the different genres. When the Utah Shakespeare Festival first announced it was one of three theatres in the country granted the rights to produce Shakespeare in Love, the stage play adapted from a movie, our loyal patrons were excited, but had a number of questions: "How closely does the play follow the plot of the movie?" "Will it have the magic, humor, and entertainment value of the movie?" "Who will play the leading roles?" "Will it be rated R, like the movie?"
Now that the play has been running at the Festival for over a month, the questions (we think) all have answers:
How closely does the play follow the plot of the movie?
Actually, fairly closely. There are always differences between film and live theatre, but the script (which was adapted for the stage by Lee Hall) is quite true to the general storyline: Young Will Shakespeare has writer's block, but finances demand he have a new play—soon. Viola de Lesseps wants to break the Elizabethan prohibition of women appearing on stage by acting in one of Shakespeare's plays—disguised as a man. Most problems are solved when Viola disguises herself as Thomas Kent and earns a role in Shakespeare's next play and when Viola (out of costume and in her "women's weeds") wins Will's heart and becomes his muse. Of course, it is much more textured than a couple of pithy sentences can describe; the plot is enhanced by transferring it to the stage with live characters and audience reactions.
Does it have the magic, humor, and entertainment value of the movie?
This question, of course, demands a subjective answer, but our audiences uniformly have loved the play, and the professional reviewers have heaped it with praise. For instance, Bruce Bennett addressed both of these questions in the St. George News: "The well-known film . . . is followed closely by Lee Hall's brilliant stage adaptation. . . . Coupled with director Brian Vaughn's lively direction, the Festival's version is lighter, funnier, and overall more entertaining than the excellent movie." Carol Cling, writing in the Las Vegas Review-Journal agrees: "Happily . . . the delightful regional premiere of Shakespeare in Love at the Utah Shakespeare Festival proves equally at home on stage. Which is more than we can say for far too many screen-to-stage transfers."
Who is playing the leading roles?
The movie starred Gwyneth Paltrow as Viola de Lesseps and Joseph Fiennes as Will Shakespeare. But we (in our humble opinion) think our leading actors—and all the actors in the play—outshine any of Hollywood. Russell Warne said in his review for Utah Theatre Bloggers Association (UTBA): "What is most refreshing about Shakespeare in Love is Quinn Mattfeld's portrayal of realistic Shakespeare." Then, "Adding to the joy of Shakespeare in Love is Betsy Mugavero in the role of Viola de Lesseps. Her character's giddy excitement at auditioning in disguise for a play was an endearing moment that won me over to the entire production."
Is it rated R, like the movie?
In a word, no. We have strived to make this an accessible production for young and old, including eliminating the nudity that was in the movie. Ashley Ramsey put it succinctly for Front Row Reviewers Utah: "This show has nothing that a tween or teen (or their parents) would find objectionable." Michelle Garrett Bulsiewicz wrote in the Deseret News: "The play removes all the nudity and other content that gave the movie its R-rating, leaving it a solid PG-13 that would still be appropriate for older children and adults. Russell Warne (UTBA) may have summed it up best: "If my children were teenagers, I would worry more about them seeing The Taming of the Shrew than Shakespeare in Love."
So, there you have it, answers to the most common questions we have received about Shakespeare in Love. We hope you join us this summer for what is surely "a hit, a very palpable hit" (Russell Warne, UTBA, quoting from Shakespeare in Love quoting from Hamlet).