R. Scott Phillips Honored with a Lifetime Achievement Award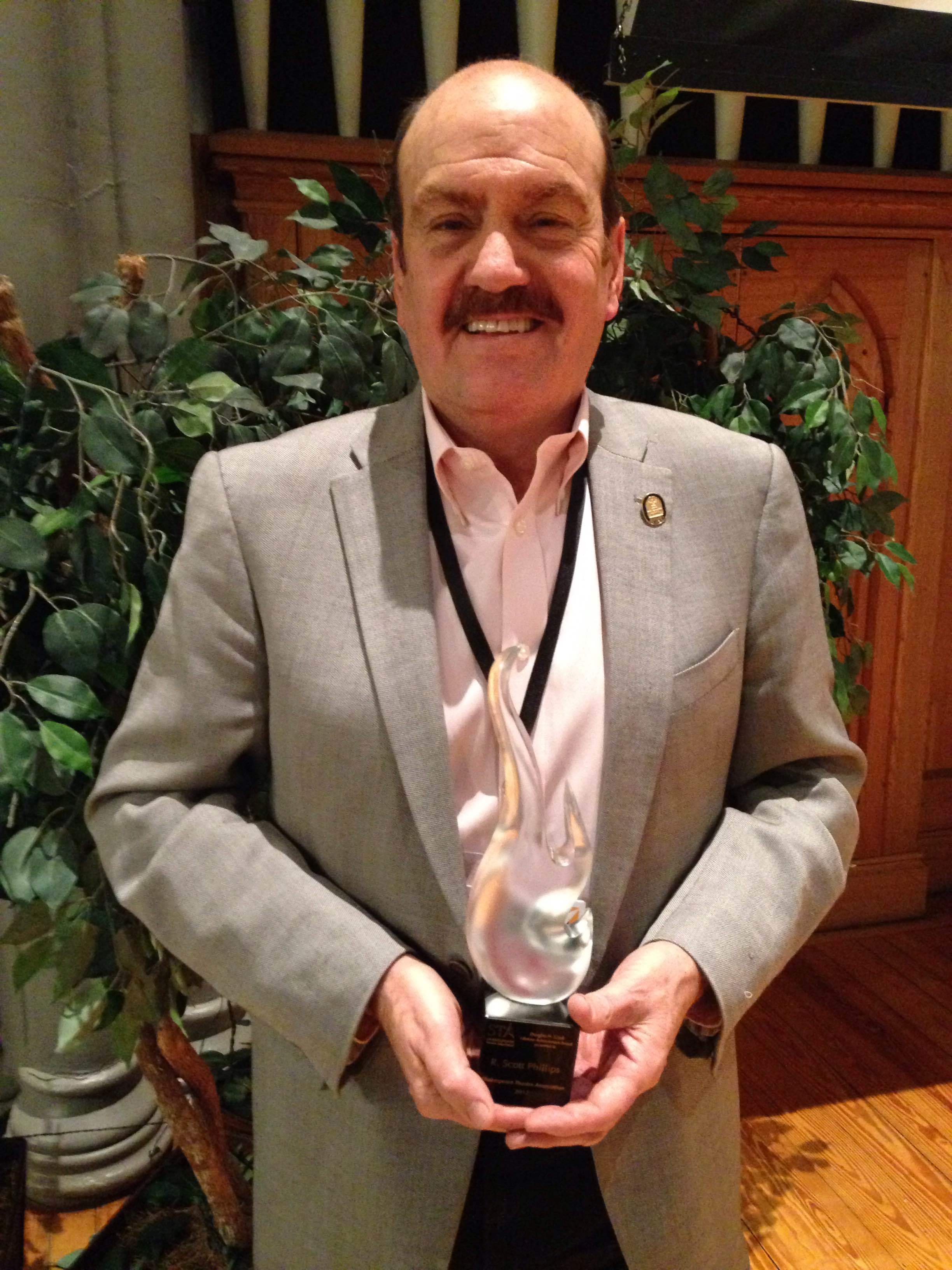 CEDAR CITY, UT– R. Scott Phillips was honored with the Lifetime Achievement Award at the annual Shakespeare Theatre Association (STA) Conference this January in Baltimore, Maryland. The Shakespeare Theatre Association created the award to celebrate the memory of Douglas N. Cook, who was a co-founder of the Shakespeare Theatre Association and the Utah Shakespeare Festival's producing artistic director emeritus. Phillips, the Festival's executive director, was given the Lifetime Achievement Award for his outstanding work in the Festival and the Shakespeare Theatre Association.
Brian Vaughn, one of the Festival's artistic directors, echoed the Shakespeare Theatre Association's recognition of Scott and added how deserved this award is. Vaughn said, "deserved is an understatement of profound measure."
Festival Founder Fred C. Adams had high praise for Scott Phillips' contributions to the Utah Shakespeare Festival. "For almost 40 years Scott has been the engine that has pushed us forward. Not only is he the repository of our history, knowing most season's plays and directors from memory, but he has caught the vision of the Festival and kept us on course," Adams said.  
In response to the award, Phillips said, "I am overwhelmed by the generosity of this organization that has bestowed this honor on me. It is doubly significant that this award is given in the name of long time Utah Shakespeare Festival producer Doug Cook. I worked with Doug for over 30 years and to be given this Lifetime Achievement Award that bears his name is deeply gratifying. I will continue to follow the values and vision of this organization and hope that collectively we can continue to change the course of discussion in the world."
Phillips announced his retirement from the position of executive director in September and will continue until March 1, 2017. His 40 years of work has culminated in great success at the Festival, including the crowning achievement of the new Beverley Taylor Sorenson Center for the Arts and now the Lifetime Achievement Award.
The Shakespeare Theatre Association (STA) was established to provide a forum for the artistic, managerial, and educational leadership for theatres primarily involved with the production of the works of William Shakespeare; to discuss issues and methods of work, resources, and information; and to act as an advocate for Shakespearean productions and training.