Ragtime: The First True American Form of Music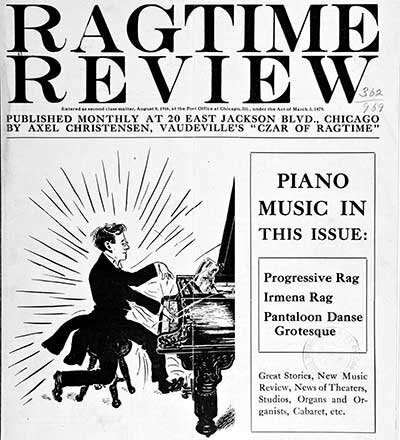 By Kathryn Neves
This season's musical, Ragtime, is about a lot of things—the struggles of immigrants and the working class, the ignorance of white middle-class America, racial tensions and inequality, and the innovations and lives of several historical figures. It is a group of disparate stories and themes, like an orchestra with many different instruments all playing to the same tune, the same style: ragtime.
Ragtime is sometimes considered the first truly American form of music. Like America itself, ragtime is a synthesis, a melting pot of styles and cultures. It is a combination of classical European music with various African styles. It's easy to tell when you're hearing ragtime: you'll hear a "ragged" beat. That's where it gets its name. Ragtime is full of syncopated rhythms, or notes played on the off beats. Taking the steady march music popularized by John Philip Sousa some time earlier, and adding ragged African syncopation, creates a style rife with energy and excitement. A syncopated top melody above a steady beat is classic ragtime.
This unique style of music became popular around the turn of the century; early twentieth-century clubs and music halls were brimming with energetic ragtime. However, to say that it was invented at this time would be a mistake. In 1913, Scott Joplin, perhaps the most famous ragtime composer of all time ("The Entertainer," anyone?), said that there was "ragtime music in America ever since the Negro race has been here, but the white people took no notice of it until about twenty years ago." Regardless, ragtime emerged as a blended, American style of music—and people loved it.
It's important to understand the context of ragtime music, especially considering what the musical is all about. For starters, ragtime really emerged from nineteenth-century African American culture. The works of black ragtime composers—such as Scott Joplin and James Scott—became a part of everyday American life, crossing racial divides even in the midst of blatant inequality. All of a sudden, there was energy, life, and movement to music. It was so different from all the other styles that came before it—a true leap in musical progress. From the clubs in Harlem and New Orleans to classical composers in Europe like Debussy and Dvořák, everyone was crazy about ragtime. 
So why is this musical called Ragtime? Why is ragtime so important to this story? For one thing, the main character, Coalhouse Walker, is a professional ragtime pianist. For another, ragtime was the defining musical style of the historical period—so much so that historian Russell Lynes called ragtime "a fanfare for the twentieth century." Then, of course, you can hear ragtime music throughout the play. It's a musical motif that comes up again and again throughout the production. 
But perhaps the reason that ragtime music is so prominent in this story is because it's so symbolic. The musical Ragtime is the story of a coming together, a joining, a union of different people, experiences, and cultures. It's a story of progress. It's a story of movement, diversity, and change. It's a story of disrupting the status quo. 
And what better way to tell that story than through ragtime music?