Raised on a Raft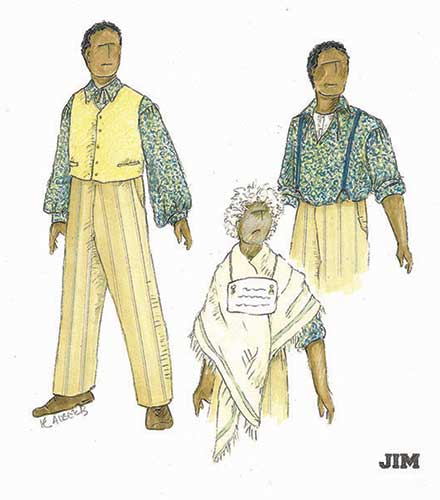 By Kathryn Neves
There's no better example of a mischievous, carefree boy than Huckleberry Finn. After all, who can forget all of his crazy antics and adventures with Tom Sawyer in Mark Twain's two famous novels: The Adventures of Tom Sawyer and The Adventures of Huckleberry Finn? But in this season's Utah Shakespeare Festival production of Big River, we get to see young Huck in a different genre and a new light. Big River is a coming of age story; it's about Huckleberry Finn learning what it means to grow up.
From the very beginning of the story, Huck wants to run away. He's tired of living in a society that wants to "sivilize" him; he would much rather live wild on his own than spend his days listening to his guardian, the Widow Douglas, or worrying about school. No matter how hard all the adults try to change him, Huck would rather go on being mischievous and wild forever. By the time he runs away from both the widow and his father, he decides he wants to live completely for himself: "I'll never change for no one, no matter what they say." And Huck keeps that promise until he meets up with Jim, a runaway slave.
With his Southern folk-wisdom and his fatherly nature, Jim is the first person to really connect with Huck. As the two of them sail along the mighty Mississippi, it's Jim who teaches Huck all of his important life-lessons: palm-reading, avoiding bad luck, and navigating the raft through stormy waters. More importantly, Jim teaches Huck how to be a good person—and how to be himself.
It's because of Jim's example that Huck learns right from wrong. After all, Huck has had almost no family for all of his life; until Jim came along, Huck had no one to raise him. His father was drunk and abusive, and Huck had no one else to take care of him. He didn't care about the consequences of his actions, even telling Miss Watson that he'd rather go to hell than heaven, just to avoid being around her. It isn't until Jim and Huck sail together through the southern United States that Huck learns to care for others besides himself: one of the most important lessons anyone can learn. Throughout Big River, it's Jim who really raises Huck and helps him to become a man. He teaches Huck about compassion—scolding him for his cruel pranks and telling him touching stories about his own children and family stuck in slavery back home. He teaches Huck about important social issues, most importantly slavery. Jim tells Huck all about the horrors of being a slave in the 1840s and helps him to understand the terrible plight of slaves all over the country.
Most importantly, Jim teaches Huck to think for himself. Before his life-changing trip down the beautiful Mississippi river, Huck's decisions were based on what others had told him— whether based on the Widow Douglas's teachings or his father's drunken ramblings, Huck relied on the information of everyone around him. By the end of the play and through Jim's help, Huck comes to realize that the society around him is wrong; that slavery is wrong. He decides to help Jim escape from slavery, even though he's been told his entire life that slavery is an acceptable, and even good, thing. "All right, I'll go to hell!" Huck decides; once and for all, Huck makes the decision to trust his own conscience and compassion for Jim over the rules that "sivilization" has created.
It's here that Huck really grows up; he learns that he doesn't need the Widow Douglas or Miss Watson to "sivilize" him. The only "sivilization" that Huck will ever need is on the Mississippi River itself, where he can make his own decisions and become a man in his own right. It's only when Huck breaks society's rules once and for all that he really grows up.
Big River is a story about many things; it's about love, compassion, justice, and good-old-fashioned fun. But more than anything, Big River is the story about a boy growing up. Our last image of young Huck is a young man sailing away along the Mississippi River, off to explore the world and to "sivilize" himself his own way.