Blog #2: The Contagious Heart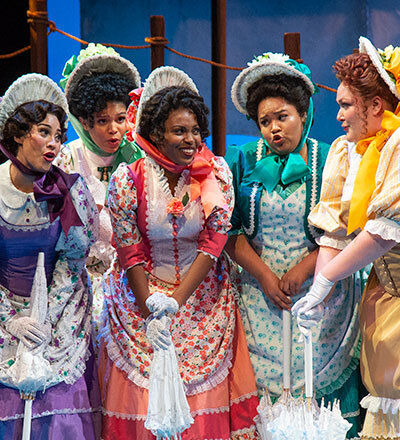 Sophia Guerrero (left) as Sister, Amara Webb as Sister, Daria Pilar Redus as Kate, Tafadzwa Diener as Sister, and Lena Conatser as Edith in The Pirates of Penzance.
By Daria Pilar Redus
Editor's Note: This is the second in a series of blog posts from actor Daria Pilar Redus. She appeared at the Festival in 2018 inBig RiverandThe Greenshowand this year is playing Sarah inRagtimeand Kate inThe Pirates of Penzance*. She is also the recipient of the Festival's 2021 Michael and Jan Finlayson Acting Award.*
We've all heard people talk about the "magic of theatre" and have certainly witnessed it first hand. I'm sure that the first time I heard this idea I was still in elementary school. Everyone who has been fortunate enough to cross paths with the Utah Shakespeare Festival has felt its magic. Of course you have; it's inescapable. But this magic exists at theatres worldwide, not just here in Cedar City, Utah. So, what makes this theatre different from any other that I've had the pleasure of crossing paths with? The heart.
Every show that is put up here at the Utah Shakespeare Festival so clearly began with a desire to work, to play, to create, to dream, to invent, and to reach every heart in the company and the audience. From the powerful dramas like Ragtime, to the side-splitting comedies like The Comedy of Errors, this foundation remains the same. As an actor, I appreciate the time we dedicate right away, before ever putting the shows up on their feet, to ask the most important questions: Why are we telling this story? Why now? What do we want to say? How do we make sure we're all telling the same story? This ensures that there is heart embedded in the show because it was instilled right off that bat.
Daily reminders of the answers to these questions keep our shows fresh, intentional, and loaded with heart. It's always very apparent to me when these questions haven't been asked or answered amongst a company of storytellers. The storytellers here at the Festival, including designers and everyone else here who works to fill our theatres with "the magic" and plenty of heart, are always on the same page,—which makes the theatre here unstoppable. Unmatched. 
Ever since graduating from Otterbein University, I've wondered what keeps me coming back to theatre in general, but specifically to this festival. And I think I've figured it out. This truly magical theatre has helped me to answer an essential question: Why do I do theatre? After spending a couple summers in the beautiful hills of Cedar City immersed in the most fantastic theatre this country has to offer, I've found my answer. I do theatre in order to become a better, more empathetic person. To listen and understand the perspective of others. To educate myself on a wide variety of different human experiences. And maybe, hopefully, the audiences here will do the same. This desire to become closer to others through understanding is the contagious heart of the Festival. My hope is that with every show in every season of this festival the audiences we reach can challenge their perspectives and make more progress toward tolerance and compassion.