Blog #3: Gripping the Dream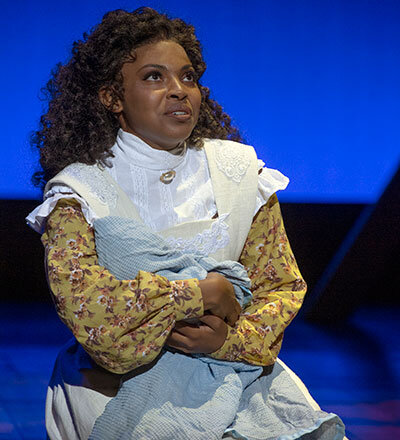 Daria Pilar Redus as Sarah in Ragtime.
By Daria Pilar Redus
Editor's Note: This is the third in a series of blog posts from actor Daria Pilar Redus. She appeared at the Festival in 2018 in Big River and The Greenshow and this year is playing Sarah in Ragtime and Kate in The Pirates of Penzance*. She is also the recipient of the Festival's 2021 Michael and Jan Finlayson Acting Award.*
 On the way home from getting my COVID-19 vaccination last spring, I received a call that delivered some of the most terrifyingly exciting news. I'd be playing Sarah in Ragtime at the Utah Shakespeare Festival. After the initial offer, the voice on the other end of the phone was drowned out by the sound of my panicked, beating heart. I was scared. Yes, I was excited . . . but I was scared.
 How am I going to tell this woman's tragic story? How am I going to tell it well? How am I going to put myself in the shoes of a woman who did something so unforgivable? It would take a miracle. 
 Or maybe, it would simply take . . . me. 
 To me, the gift of being an actor is having the chance to examine our humanity. We have to understand why people do the things that they do and make the choices they make. As I began to do character work on Sarah, I was absolutely baffled at how many parallels I found between this genuine, kind, optimistic woman and myself.  Ragtime is all about dreaming. Holding onto hope, holding on to a dream, and pursuing a dream. The dream. We're all different, so the loss of "the dream," whatever that may be for you, is handled and processed in different ways. 
 I, Daria, am a dreamer in a very similar way to Sarah. I, too, dream of the husband, the kids, sitting around drinking chocolate milk and snuggling on the hammock with the whole family. In my life, I have attached that dream to certain people. So, if someone left me, it has felt like the dream was leaving me. When someone doesn't want me, it has felt like the dream doesn't want me. That's Sarah. When Coalhouse left her, it felt like the dream leaving. For Daria, that's devastating. For Sarah, that's devastating. Who's to say what we all would or wouldn't do while grieving the loss of the most important dream in our life? In pursuit of her dream, Sarah stepped completely outside of her comfort zone and invited the same person who took her dream away from her back into her life. She almost took a life while grieving the loss of the dream, and eventually died in pursuit of it. 
 Bridging this gap between me and Sarah wiped all of the villain, darkness, and evil out of this woman. She is completely reachable, completely human. We all have something that we'd fight our hardest for. It just so happens that mine and Sarah's dream is the same. So, it didn't take a miracle to tell this woman's story. It took an examination of my heart, my desires, my faults . . . it took me.