Seven Fun Facts about The Comedy of Terrors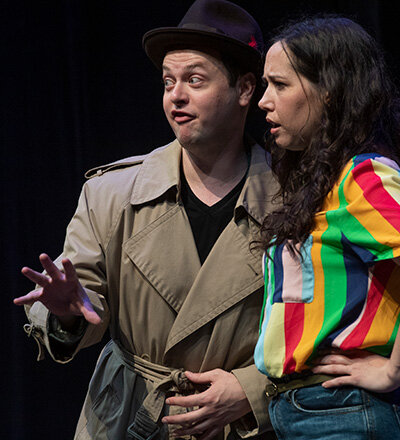 Michael Doherty (left) as Janet Jones and Alex Keiper as Jo Smith in The Comedy of Terrors
By Kathryn Neves
This season at the Utah Shakespeare Festival, you'll get the chance to see The Comedy of Terrors—a rip-roaring farce that will have your head spinning. With identical twins, mistaken identities, and two actors playing five characters, this play will keep you laughing until the final curtain call! Here are seven fun facts you may not know about The Comedy of Terrors:
1.     This play takes its name from Shakespeare. Okay, so maybe you already knew this fact. This play is named after The Comedy of Errors, another play about identical twins, and the crazy mishaps that they get into.
2.     There are only two actors in the show. A man and a woman perform as a set of identical triplets and a set of twins, moving back and forth between roles with dizzying speed.
3.     The playwright, John Goodrum, played the Jones brothers in the original production. Performing as Beverly, Vyvian, and Janet, Goodrum got the chance to speak the very lines he wrote when the show first premiered.
4.     John Goodrum is a big fan of thrillers. He's very into Sherlock Holmes; he's written a few stage adaptations of Conan Doyle's works, and generally focuses on writing plays with plenty of suspense. It's no wonder, then, that even this farcical comedy has just a touch of terror!
5.     There's a movie with the same name, starring Vincent Price and Basil Rathbone. Don't get confused—it's a different story. The movie came out in 1963 with a star-studded cast, and has become a cult classic. This season's show is a different The Comedy of Terrors—but no less hilarious!
6.     The Comedy of Terrors is full of references to past theatrical works*.* From its namesake, *The Comedy of Errors*, to classic stories of confusion and coincidence dating all the way back to ancient Greece, this play follows in the comedic footsteps of all the greats.
7.     This is one of two plays directed by Brian Vaughn this season. Artistic Director Brian Vaughn is bringing you two amazing shows this summer! Be sure to catch his production of Ragtime while you're in Cedar City.